Check out the best Christmas Countdown book with Christ-centered art, scripture, song, video, and an ornament for each day of December.
Start using your Christmas Countdown Book on December 1st. Today would be presented on December 25th (Christmas Day!) Each day focuses on a different part of the Savior's life all the way through to Christmas Day. The purpose of this Christmas Countdown Book is to help you remember and focus on Jesus Christ during the Christmas season!
(This post contains affiliate links)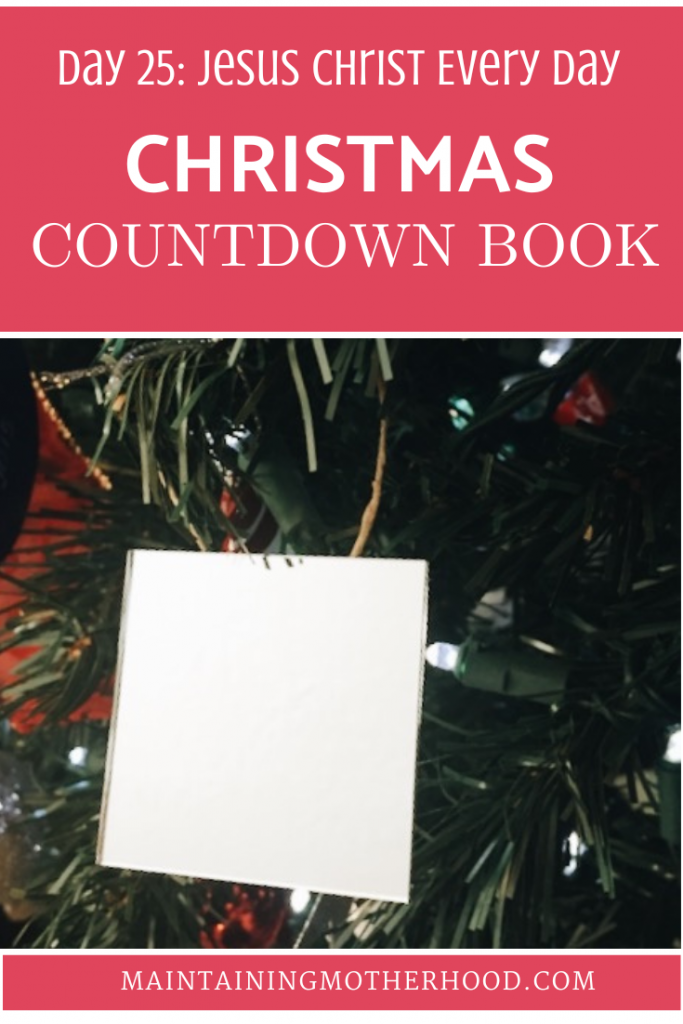 If you haven't read about our Christmas Countdown book, take a minute to do so here! Each day will include Christ-centered artwork, a scripture, song, video, and ornament ideas for each day of December. I have linked to all the resources to help you design your own Christmas Countdown book. You can follow all the links each day, or simply print the pages for free from these websites, for your own personal use.
Christmas Countdown Book Day 25: Christ Every Day
Picture
Jesus Knocking at the Door by Del Parson
Scripture
"We bear testimony, as His duly ordained Apostles–that Jesus is the Living Christ, the immortal Son of God. He is the great King Immanuel, who stands today on the right hand of His Father. He is the light, the life, and the hope of the world. His way is the path that leads to happiness in this life and eternal life in the world to come. God be thanked for the matchless gift of His divine Son."–The Living Christ
Song
I Know That My Redeemer Lives, Hymn 136
I know that my Redeemer live.
What comfort this sweet sentence gives!
He lives, he lives, who once was dead.
He lives, my ever-living Head.
He lives to bless me with his love.
He lives to plead for me above.
He lives my hungry soul to feed.
He lives to bless in time of need.
He lives to grant me rich supply.
He lives to guide me with his eye.
He lives to comfort me when faint.
He lives to hear my soul's couplaint.
He lives to silence all my fears.
He lives to wipe away my tears.
He lives to calm my troubled heart.
He lives all blessings to impart.
He lives, my kind, wise heav'nly Friend.
He lives and loves me to the end.
He lives, and while he lives, I'll sing.
He lives, my Prophet, Priest, and King.
He lives and grants me daily breath.
He lives, and I shall conquer death.
He lives my mansion to prepare.
He lives to bring me safely there.
He lives! All glory to his name!
He lives, my savior, still the same.
Oh, sweet the joy this sentence give:
"I know that my Redeemer lives!"
He lives! All glory to his name!
He live, my Savior, still the same.
Oh, sweet the joy this sentence gives:
"I know that my Redeemer lives!"
Video
Shine Your Light So Others May See
(To easily find all the videos for the Christmas Countdown Book, follow my Playlist on Youtube!)
Ornament
I wanted this ornament to remind us that we need to do some self-reflection and see what we can do to be a light to others, to point people to Christ by our example. A small mirror seemed perfect to portray that.
If you don't want to make your own ornament, here are some other options:
Check out my Christmas Ornaments Pinterest Board for even more ideas!
Day 1 Day 2 Day 3 Day 4 Day 5 Day 6 Day 7 Day 8 Day 9 Day 10 Day 11 Day 12 Day 13 Day 14 Day 15 Day 16 Day 17 Day 18 Day 19 Day 20 Day 21 Day 22 Day 23 Day 24 Day 25