Want to save BIG bucks on laundry? Making your own laundry soap can bring your costs to under $50 for the year! Try this Easy Homemade DIY Laundry Soap.
I make my own laundry soap once a year. The total cost for our laundry detergent for an entire year is just under $50! Can you believe that? We have a great laundry system worked out to where I do at least one load of laundry a day. In our household of 8 people, it's a lot of laundry, so any savings we can find is great!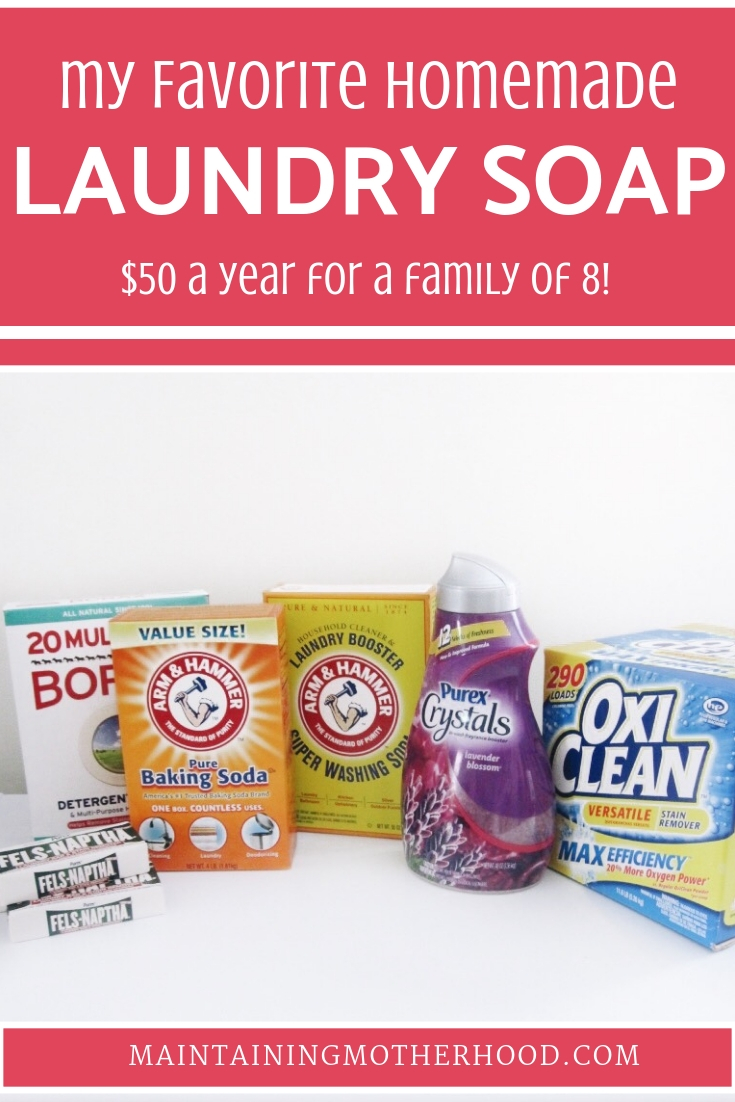 (this post contains affiliate links)
I originally found this recipe through Pinterest on this website. We have been using this specific recipe for about 4 years now. I have tweaked it just a bit, but it is a tried and true recipe that works great for us!
The Ingredients
 1 4 lb 12 oz box Borax
1 4 lb box Arm & Hammer Baking Soda
1  box 55 oz (3 lb 7 oz) Arm & Hammer Super Washing Soda
3 bars of Fels-Naptha soap, found in the detergent isle (if you use Zote bars use 2 bars instead)
Oxi Clean (about 3.5 lbs total)
 1 container of Laundry Crystals
Or my new favorite,
Downy Unstopables,
which I  sprinkle in a little with each load.
I easily found all of these ingredients at Walmart in the laundry detergent aisle. I bought the large box of Oxi Clean when it was on sale at Costco, and will use the rest for my
whitening laundry soap
.
The Process
(click here to get the free recipe printable!)
The easiest way I have found to make sure everything is mixed up well, is to alternate 1 powder ingredient and then one finely grated bar of soap. I have used both Zote and Fels-Naptha. The Zote bar is a little more sticky and bigger, so it can be harder to manage when grating. But it is pink, so it is prettier and doesn't look like cheese! The Fels-Naptha was right by the Borax, so that is what I used this time around.
When I make my laundry soap for a year, I double the recipe. I usually make one batch and mix it well, and then make the other batch right on top of that. I store it in an old Laundry Detergent container from Costco. A small amount is kept on top of our dryer in a glass jar so it is easier for the kids to access when they are doing their laundry chore.
I just made a double batch, and it took me about 45 minutes. The most time-intensive part is grating the soap bars and making sure everything is stirred together REALLY well.
How to Use

It sounds crazy, but you only need 1-2 Tablespoons per load. I just keep a Tablespoon in the jar to easily scoop it out. We usually use 2 scoops just because we are running full loads every time and my kids can be pretty messy!
You don't HAVE to use the added fragrance, but I like having some sort of a fresh laundry smell. Without the laundry crystals, your laundry will smell like…nothing. Which is clean, right? But we are sort of spoiled and accustomed to laundry smelling like something in this day and age.
Because the ingredients are so basic, we use this recipe for all our laundry, including our cloth diapers! The only difference is I don't add any of the fragrance when washing the diapers. There is no extra buildup on the diapers from using this soap.
I made this video to show you just how easy it is to make this laundry soap!
What homemade laundry soap recipes have you used and loved?