Do you have 72 Hour Kits? Follow the simple checklist and menu plan to put together everything you need for your Adult 72 Hour Kit today!
Are your 72 hour kits ready? I have spent weeks reading everything I can get my hands on to try to make the best Adult 72 hour kits for our family. Hopefully we never have to use these, but I'm glad we have them all done now. I was joking with my husband the other night that if there is ever an emergency, we better grab those first since I spent so stinking much time researching them!
(This post contains affiliate links)
Adult 72 Hour Kit
Now that I have done all the grunt work for you, this should be a super easy project where you simply print the list and put together your supplies!

We were lucky to already have quite a few supplies for our 72 hour kits. I had half-heartedly thrown some together, but that was back when our 4th kid was just a baby. We really needed to update things to suit our current needs. I figured if I was going to put in the time, I was going to do it right. Since April and October are the months that we focus on Emergency Preparedness, we went all out this time. Let me break it down for you:
(Looking for more ideas just on food? Check out my 72 Hour Kit Food List.)
My Criteria
For our 72 hour kits, I wanted to have things in the backpacks that were practical, easy to use, and easy to access. We have 2 emergency totes in addition to the backpacks. One tote has extra emergency supplies and the other has extra food. I am hoping that we would be able to grab all the extra totes in the event of an emergency. If we have to leave on foot we have the necessities in our bags, but they aren't so heavy that we can't manage them. Knowing that some kids won't be able to carry their own packs, and some kids would most likely have to be carried made this extra important.
Within the backpacks, each category of supplies is separated by a Gallon Ziploc bag. This will make it easy to find things when we do have to use our kits, and also will make rotating things MUCH easier. Get your Adult 72 Hour Kit Checklist here!
Emergency Supplies
I have an amazing Aunt who has given us TONS of emergency supplies over the years. Every Christmas, I look forward to seeing what new things we will receive. One year we got a portable toilet! With little kids, I can't even tell you how awesome that will be to have an actual toilet seat to use!
I looked through a ton of different websites (check out my Emergency Preparedness Pinterest Board) and came up with a checklist that worked for my family. I tried my best to include links to exactly what we have in our kits. We included the essentials like:
Cash in small bills
Life Straw personal water filter
Radio with extra batteries
Hygiene
This list seemed pretty basic. Pretty much everything you can find in little travel sizes, which makes it convenient.
Clothing
Again, basic.
Long shirt and pants, 2 socks, 2 underwear
Food
This is the area where the bulk of my time was spent. I wanted food that:
is light weight
has a fairly long shelf life
has enough calories
we would actually eat.
This last part is still somewhat up in the air. We don't eat many processed foods, and it is pretty hard to find whole foods that have a long shelf life without packing #10 cans in each person's backpack. I tried to keep things as healthy as possible. My kids were getting excited over most of the things I was putting in the cart, so that is a good sign. Some of the foods they have never tried before, but the shelf life and calorie count won me over. I plan to rotate these foods out and use them as fun foods in the kids' lunches during the school year since they are all grab-and-go types of foods. (to find more food ideas, see my other post just on emergency food here.)
Day 1
Day 2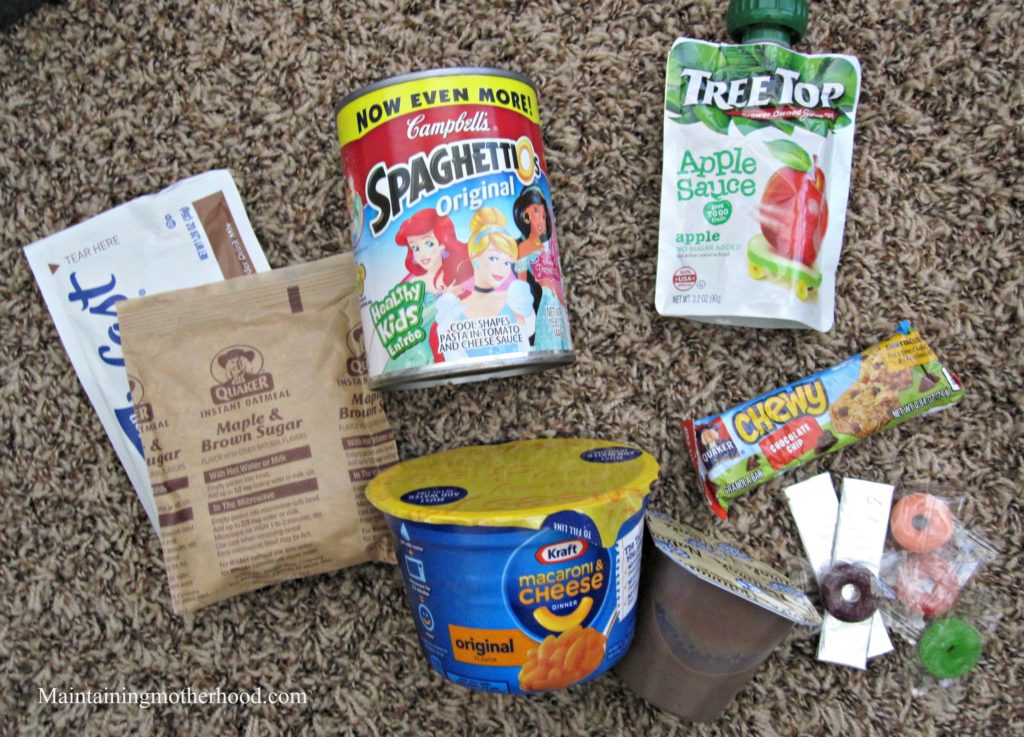 Day 3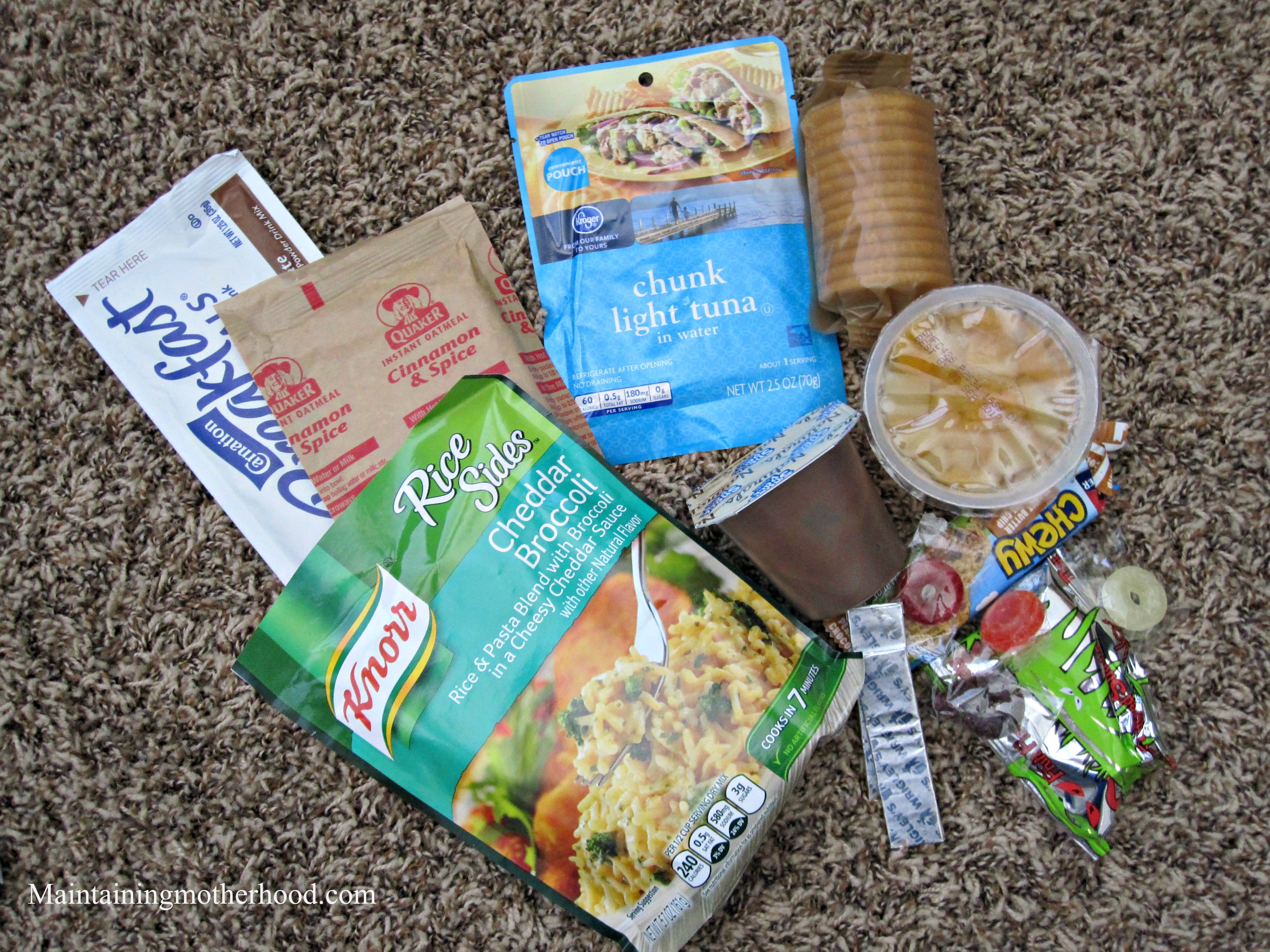 I split up the food into bags labeled Day 1, Day 2, Day 3 and included a menu. Super user friendly. For the oatmeal, I included a baggie with regular oats to add to the instant oatmeal. This gives it more substance and calories. I figure you can also then use the bag to soak the oats in overnight. With the food being split up into the different gallon size bags, you can also reuse that bag for making the Ramen noodles and the chicken and rice dinner. Each adult backpack also contains 4 bottles of water.

Get the Adult 72 Hour Kit Shopping List here!
Calories
Knowing that my calorie count was higher than just the minimum needed for survival was important to me. The count isn't super high, but I figure right around 1500 calories is a pretty good amount in a backpack. Remember too, that we have a whole other tote filled with more food. Get your menu with calorie count printable here!
I have another post on just the food aspect of things where I break different food options up by easy to hard in preparation for your kits!
Documents
In addition to our 72 Hour kits, we have a Grab and Go Binder with printouts of Emergency phone numbers, our Family Emergency Plan, a card with our family info, and an up-to-date family photos and all the other important documents we would need.
Whew! That was SO much work! Really, the peace of mind knowing that that I am prepared is very satisfying. Because I made such an effort to keep this simple, I hope to be able to maintain the kits over the years and never have to do a complete overhaul again!
If you are looking for ideas on Kid 72 Hour Kits, or are just wanting a list of food items, here you go!

What do you have in your 72 Hour Kits?