Need some great books for your Third Grader to read and enjoy this summer? Look no further! Get your Third Grade Summer Reading Book List here!
Are you participating in summer reading programs this year? Need some great books to read? Look no further! I have poured over book list after book list to perfect the summer reading lists for my own kids this year. The book lists I have compiled are sorted by grade. Here is the Third Grade Summer Reading Book List.
(this post contains affiliate links)
To help my kids choose great literature to read over the summer, I have compiled Book Lists by grade level for them. It can be overwhelming trying to find a good book to read, but with a list in hand, you can embark on all sorts of adventures and discover new authors.
Every one of these books is found at our small Library, so the hope is that they are books that are found in nearly every Library. Unfortunately, many books didn't make the cut simply because our Library didn't have them. The list I was able to come up with seems pretty comprehensive though. I have read many of the books on these lists, but not every single one. I took the books that were listed most often on the many book lists I reviewed. Please offer suggestions as to other books your kids love near the same level so we can expand our list!
Third Grade Summer Reading Book List
The Third Grade Reading List is where things start getting really fun in my opinion. Lots of Historical Fiction and beginner biographies make an entrance. I tried to include a good mix of the classics as well as some of the newer books that are surfacing.
Also, to make your search easier, I have put a star by our absolute favorites!
Allie Finkle's Rules for Girls Series
The Miraculous Journey of Edward Tulane*
Escape from Mr. Lemoncello's Library Series
From the Mixed-Up Files of Mrs. Basil E. Frankweiler*
Harry Potter and the Sorcerer's Stone*
When I Was Young in the Mountains
How We are Using the List
My kids are encouraged to read 10 books off this list, I hope they will choose to continue to read off this list throughout the school year. There are so many good lessons to learn from these books rather than just an entertaining story to keep a kid reading. Get your free Third Grade Book List checklist here!
I love that this list gives me a good range of books to choose from when purchasing books for my kids. We have been slowly trying to weed out the books that just aren't super great that we own, to be in line with my own simplification process. Many of the books that we have chosen to keep make an appearance on these lists. The rest I hope to purchase over time.
What other books do you have on your Third Grade Book List?
Check out the First, Second, and Fourth Grade Reading Lists as well!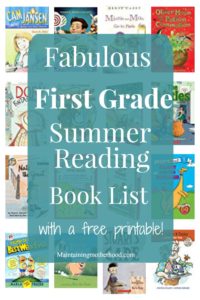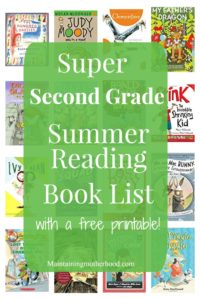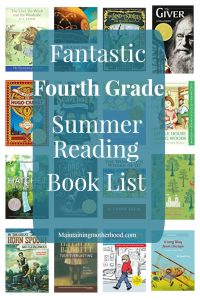 What is your Third Grader reading this year?