Do you have 72 Hour Kits? Follow the simple checklist and menu plan to put together everything you need for a 72 Hour Kit for Kids today!
(This post contains affiliate links)
April and October are the months that I focus on Emergency Preparedness. The 72 Hour kits got a total makeover this year so everything is completely up-to-date. I have talked about Adult 72 Hour kits, but different things need to be planned for kids. They won't need all the same supplies, and won't be able to carry as much in their pack as an adult would. I checked out all sorts of information via Pinterest and came up with kits to suit the needs of our kids. Here are my tips for building a 72 hour kit for kids with free printable checklists!
While packing the Adult 72 Hour kits, and putting together our Grab and Go Emergency Binder, I made little changes along the way to cater to the needs of kids. For example, what 4 year old needs to be carrying around matches? Kid packs are also more focused on comfort than survival. An emergency won't be fun, but hopefully the items in their pack can help them not feel as scared or anxious should we ever have to use them.
(Looking for more ideas just on food? Check out my 72 Hour Kit Food List.)
My Criteria
For our 72 hour kits, I wanted to have things in the backpacks that were practical, easy to use, and easy to access. We have 2 emergency totes in addition to the backpacks. One tote has extra emergency supplies and the other has extra food. I am hoping that we would be able to grab all the extra totes in the event of an emergency. If we have to leave on foot we have the necessities in our bags, but they aren't so heavy that we can't manage them. Knowing that 2 kids won't be able to carry their own packs, and one kid would most likely have to be carried made this extra important.
Within the backpacks, each category of supplies is separated by a Gallon Ziploc bag. This will make it easy to find things when we do have to use our kits, and also will make rotating things MUCH easier. Get your 72 Hour Kit for Kids Checklist here!
Emergency Supplies
I have an amazing Aunt who has given us TONS of emergency supplies over the years. Every Christmas, I look forward to seeing what new things we will receive. This year we got a portable toilet. With little kids, I can't even tell you how awesome that will be to have an actual toilet seat to use! The items in our Kit for kids includes:
Hygiene
This list seemed pretty basic. Pretty much everything you can find in little travel sizes, which makes it convenient.
Baby wipes, Chapstick, comb, deodorant, hand sanitizer, Kleenex, lotion, shampoo/conditioner, soap, toilet paper, toothbrush/toothpaste, and washcloth.
Clothing
Again, basic. I read that a bunch of families pack sweats for their kids and just pass them down from kid to kid. I didn't pack clothes for the kids at this time. When the weather starts getting colder, I will be getting a bunch of sweats in gender neutral colors and doing this for my kids. That will save not only on money, but also save me the trouble of having to rotate clothes out as often. Plus, keeping the comfort of the kids in mind: who doesn't love a brand new pair of fuzzy sweats?
Activities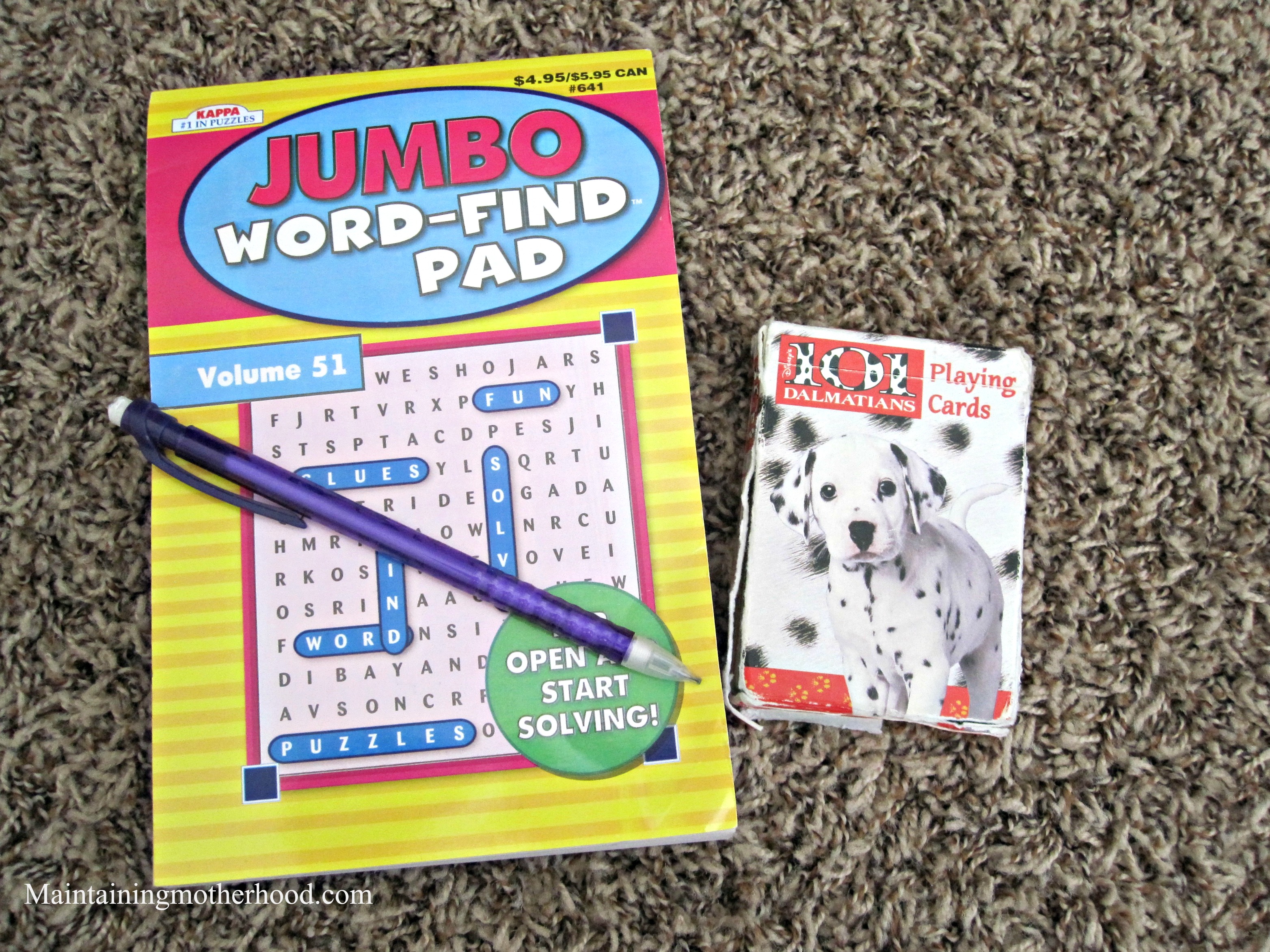 This was a big one for the kids. If we are sitting around in a shelter for awhile, or stuck in traffic in the car, I wanted them to have something to do. The older kids have a pack of cards and an activity book with a mechanical pencil (no melting crayons, no having to sharpen the pencil). The younger kids have a small memory game or toy as well as a coloring book with colored pencils. I did include a pencil sharpener in with that. My 4 year old could sharpen pencils all day long without getting bored.
Food
This is the area where the bulk of my time was spent. I wanted food that:
is light weight
has a fairly long shelf life
has enough calories
we would actually eat.
This last part is still somewhat up in the air. We don't eat many processed foods, and it is pretty hard to find whole foods that have a long shelf life without packing #10 cans in each person's backpack. I tried to keep things as healthy as possible. My kids were getting excited over most of the things I was putting in the cart, so that is a good sign. Some of the foods they have never tried before, but the shelf life and calorie count won me over. I plan to rotate these foods out and use them as fun foods in the kids' lunches during the school year since they are all grab-and-go types of foods.
Day 1
Day 2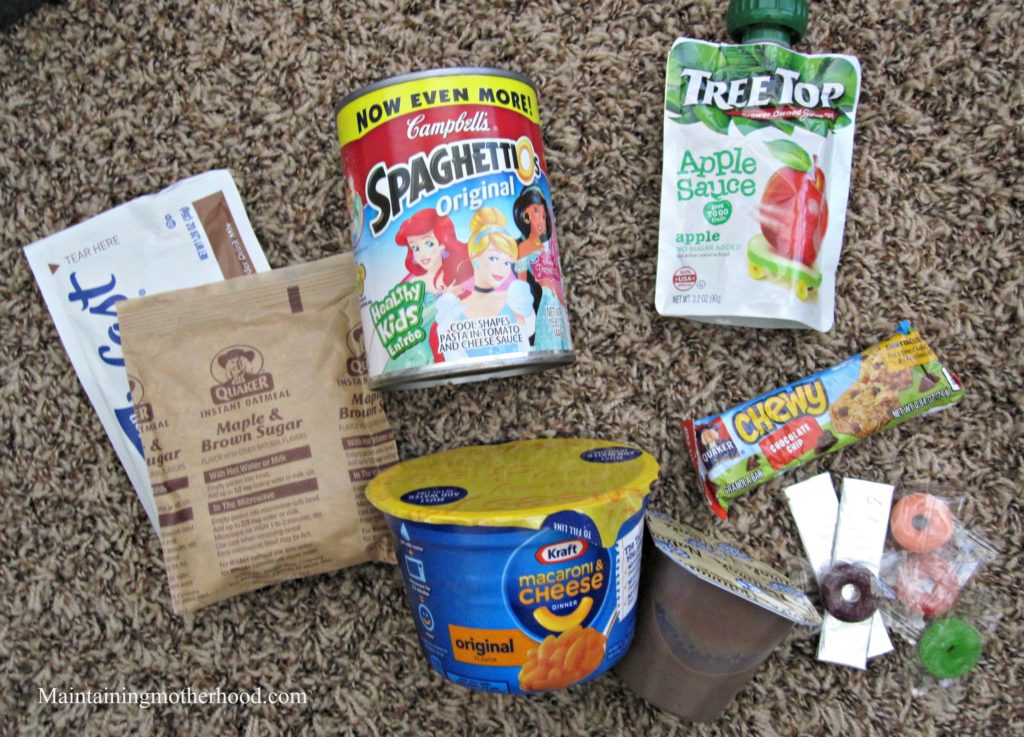 Day 3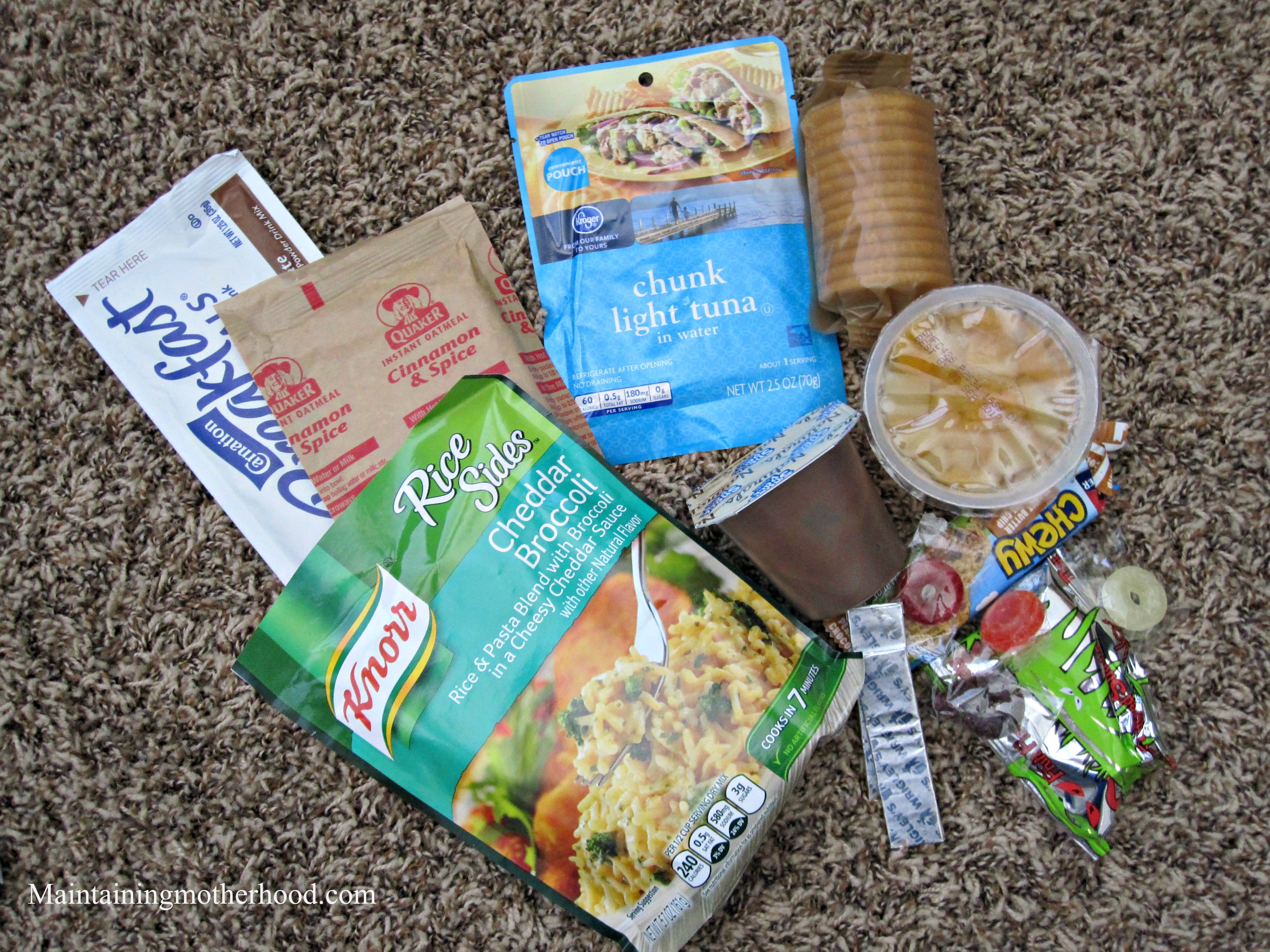 I split up the food into bags labeled Day 1, Day 2, Day 3 and included a menu. Super user friendly. For the oatmeal, I included a baggie with regular oats to add to the instant oatmeal. This gives it more substance and calories. I figure you can also then use the bag to soak the oats in overnight. With the food being split up into the different gallon size bags, you can also reuse that bag for making the Ramen noodles and the chicken and rice dinner. Each adult backpack also contains 4 bottles of water.

Get the Adult 72 Hour Kit Shopping List here!
Calories
Knowing that my calorie count was higher than just the minimum needed for survival was important to me. The count isn't super high, but I figure right around 1500 calories is a pretty good amount in a backpack. Remember too, that we have a whole other tote filled with more food. Get your menu with calorie count printable here!
Documents
Each 72 hour kit has a printout of Emergency phone numbers, our Family Emergency Plan, a card with our family info, and an up-to-date family photo and individual photos of each of our kids.
Whew! That was SO much work! Really, the peace of mind knowing that that I am prepared is very satisfying. Because I made such an effort to keep this simple, I hope to be able to maintain the kits over the years and never have to do a complete overhaul again!
Reminder
Don't forget that we don't try to cram everything possible into the 72 hour kits for kids. In addition to their 72 hour kits, we have Adult 72 Hour kits, 72 Hour Kit Food List, and a Grab and Go Binder for all our other important documents.
What do you have in your 72 Hour Kits?