Although laundry is a never-ending task, it is not usually an overwhelming task for me. I have come up with a laundry system that works great for my large family on so many levels, and I want to share it with you!
Sorting
First off, we have our sorting station. Once a kid is old enough to undress themselves, they learn how to sort their clothes by color. I have tags hanging on the laundry bags to help them remember where each color goes.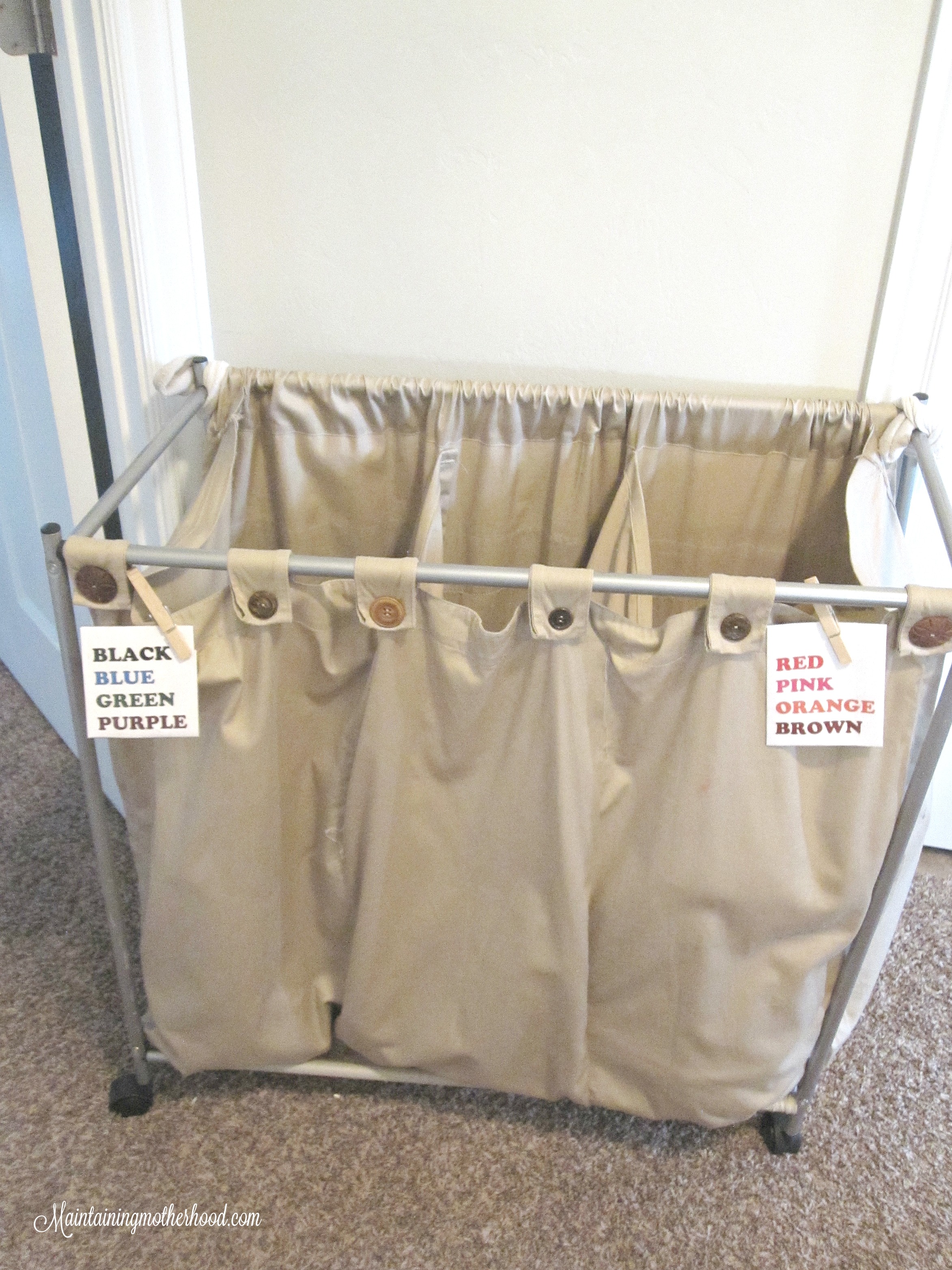 Darks on the left, reds on the right, and whites and lights in the middle.
I got my laundry sorter about 3 years ago from Walmart, and couldn't find a link to the exact one I have. It has never been my favorite, but it had to meet specific criteria. It needed to fit into the small space outside of the bathroom, had to have 3 different compartments, the frame needed to be somewhat sturdy, and it had to be inexpensive. I bought the only one that would fit in the space knowing that the bag part was going to come apart fairly quickly since it was made out of a very cheap nylon. Some old curtains I had were just the trick to remake the sorting bags, and they have held up great.
Washing
The kids sort the laundry, and I do at least one load a day. While the kids are getting ready in the morning, I put a load in the washer. This load will be put into the dryer either while the kids are choosing books before nap, or while the kids are getting ready for bed that night, depending on how many loads I have washed that day.
Folding
I have a laundry basket set right in front of my dryer so that I can empty the clean clothes fresh out of the dryer if I am not able to fold it right away. I usually fold clothes at night while the kids are getting ready for bed. Our laundry room is located very central to the kid bathroom and all their bedrooms, so I can monitor and make sure everyone is staying on task.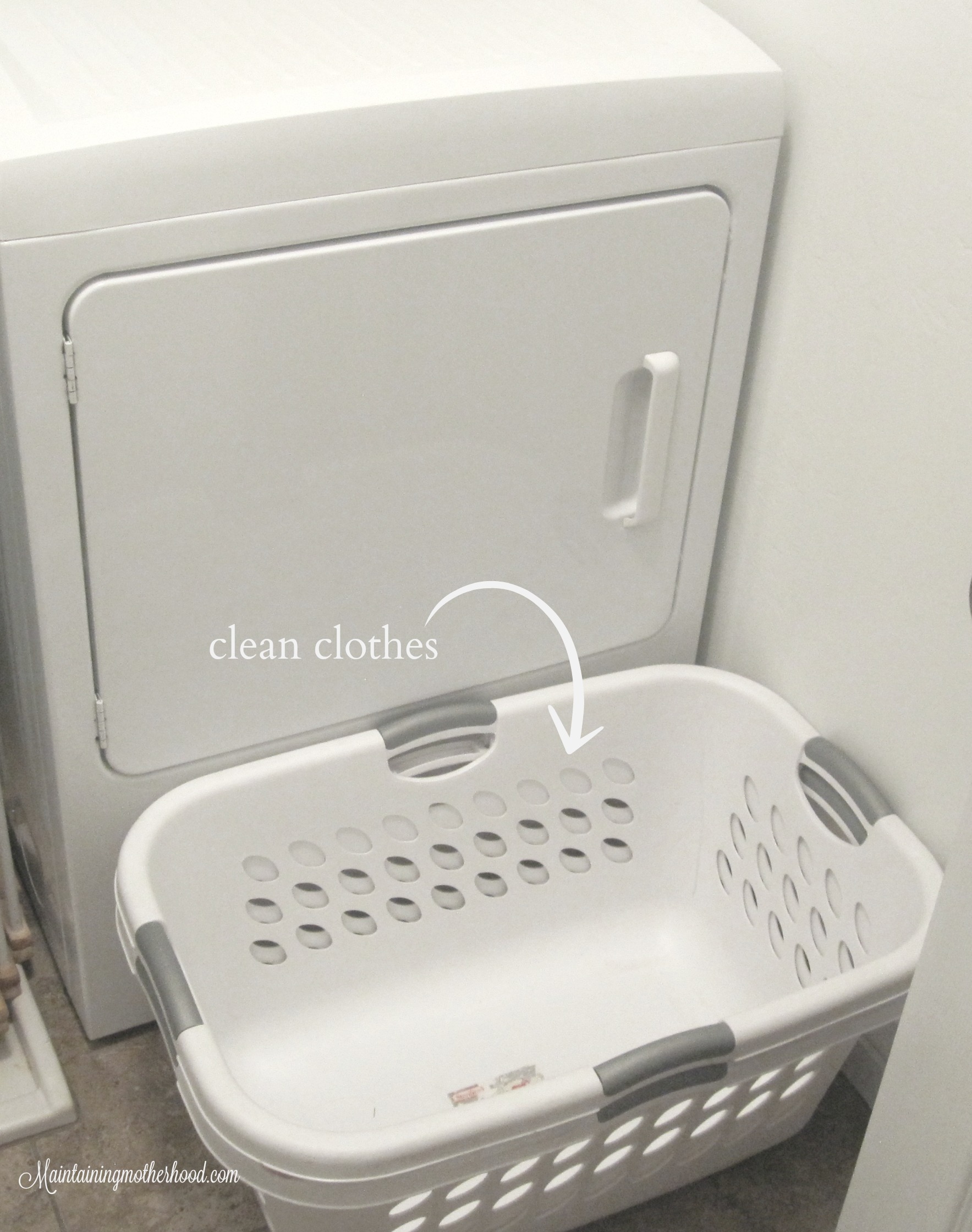 Right above the dryer I have a tension rod with kid and adult hangers. We hang up all shirts and church clothes, so having them handy saves me time. I'm not scrambling to find hangers, or folding clothes only to hang them up later. When the kids are done with their hangers, they hang them back on the laundry hamper so I can use them again.
Put Away
After folding the clothes, I set them in piles right outside the laundry room door so each child can put their pile away every morning. All the shirts and dresses that are on hangers get hung on the side of the laundry hamper.
If I could change my laundry system at all, I would LOVE to have one of these:
or these: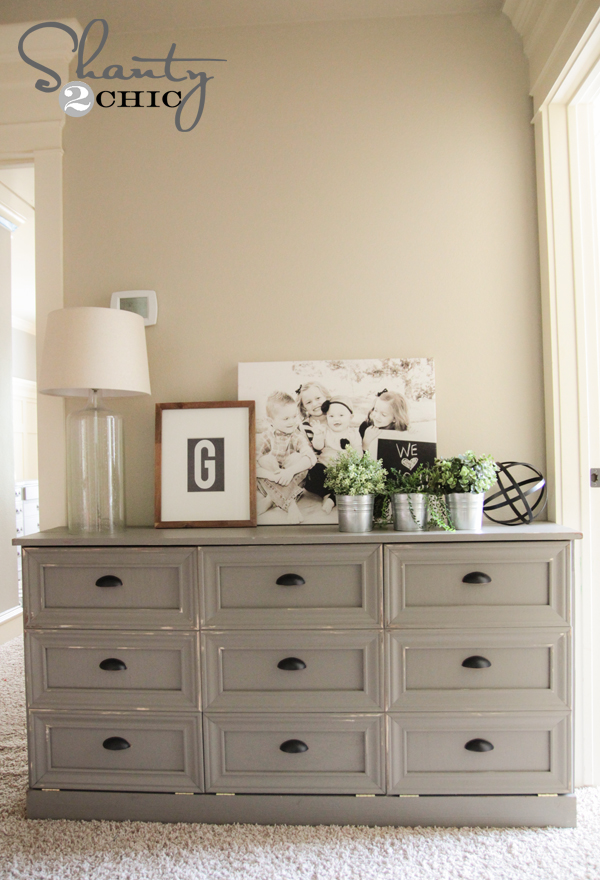 Something that looks beautiful, and is easy to access. I would be able to set all the kids' clothes on top of it for them to take back to their rooms, rather than setting them on the floor. *sigh* I'd still have laundry to do though…
Kid's Turn!
Now, don't think that just because I have this great system worked out that my kids are off the hook! When it is their turn to do laundry on our chore chart, they take a turn folding, and switching laundry from the washer to the dryer. And, whenever I wash rags, the youngest kids fold those and put them away.
I usually wash a load of whatever color is closest to being full in the hamper. I generally wash towels, whites, and rags once a week and kid sheets every other week.
So there you have it! That's how we do laundry around here.
What laundry tips do you have?