Check out the best Christmas Countdown book with Christ-centered art, scripture, song, video, and an ornament for each day of December.
Start using your Christmas Countdown Book on December 1st. Today would be presented on December 24th (Christmas Eve!) Each day focuses on a different part of the Savior's life all the way through to Christmas Day. The purpose of this Christmas Countdown Book is to help you remember and focus on Jesus Christ during the Christmas season!
(This post contains affiliate links)
If you haven't read about our Christmas Countdown book, take a minute to do so here! Each day will include Christ-centered artwork, a scripture, song, video, and ornament ideas for each day of December. I have linked to all the resources to help you design your own Christmas Countdown book. You can follow all the links each day, or simply print the pages for free from these websites, for your own personal use.
Christmas Countdown Book Day 24: Christ's Second Coming
Picture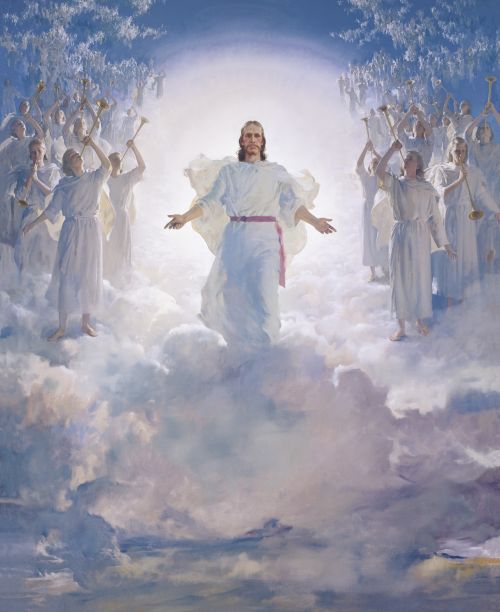 The Second Coming by Harry Anderson
Scripture
"We testify that He will someday return to earth. "And the glory of the Lord shall be revealed, and all flesh shall see it together" (Isaiah 40:5). He will rule as King of Kings and reign as Lord of Lords, and every knee shall bend and every tongue shall speak in worship before Him. Each of us will stand to be judged of Him according to our works and the desires of our hearts." —The Living Christ
Song
When He Comes Again, Children's Songbook 82
I wonder, when he comes again,
Will herald angels sing?
Will earth be white with drifted snow,
Or will the world know spring?
I wonder if one star will shine
Far brighter than the rest;
Will daylight stay the whole night through?
Will songbirds leave their nests?
I'm sure he'll call his little ones
Together 'round his knee,
Because he said in days gone by,
"Suffer them to come to me."
I wonder, when he comes again,
Will I be ready there
To look upon his loving face
And join with him in prayer?
Each day I'll try to do his will
And let my light so shine
That others seeing me may seek
For greater light divine.
Then, when that blessed day is here,
He'll love me and he'll say,
"You've served me well, my little child'
Come unto my arms to stay."
Video
Inspiring Short: Make Time for the Savior This Christmas | Neil L. Andersen
(To easily find all the videos for the Christmas Countdown Book, follow my Playlist on Youtube!)
Ornament
I liked this solid red ornament to represent the red robe the Savior will wear upon his return.
Here are some options for purchase:
Check out my Christmas Ornaments Pinterest Board for even more ideas!
Day 1 Day 2 Day 3 Day 4 Day 5 Day 6 Day 7 Day 8 Day 9 Day 10 Day 11 Day 12 Day 13 Day 14 Day 15 Day 16 Day 17 Day 18 Day 19 Day 20 Day 21 Day 22 Day 23 Day 24 Day 25