In the Christmas Countdown Book, Day 5 is when Mary and Joseph travel to Bethlehem. See what art, scripture, song, video, and ornament we used to help us remember Christ.
(this post contains affiliate links)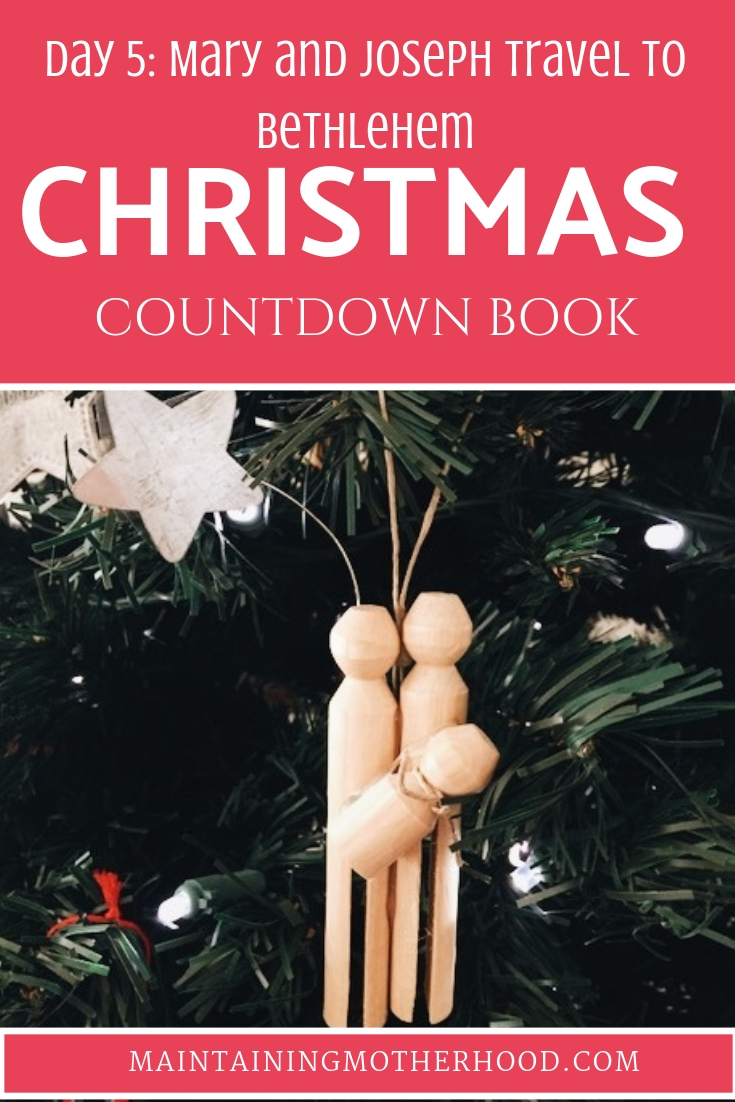 If you haven't read about our Christmas Countdown book, take a minute to do so here!
I have linked to all the resources to help you design your own Christmas Countdown book. You can follow all the links each day, or simply print the pages for free from these websites, for your own personal use.
Day 5: Mary and Joseph Travel to Bethlehem
Start using your Christmas Countdown Book on December 1st. Today would be presented on December 5th. There will be a different subject for each day until Christmas Day, December 25th. The purpose of this Christmas Countdown Book is to help you remember and focus on Jesus Christ during the Christmas season!
Picture

Scripture
4 And Joseph also went up from Galilee, out of the city of Nazareth, into Judæa, unto the city of David, which is called Bethlehem; (because he was of the house and lineage of David:)
5 To be taxed with Mary his espoused wife, being great with child.
6 And so it was, that, while they were there, the days were accomplished that she should be delivered.
7 And she brought forth her firstborn son, and wrapped him in swaddling clothes, and laid him in a manger; because there was no room for them in the inn.
Song
O Little Town of Bethlehem, Hymn 208
1. O little town of Bethlehem,
How still we see thee lie.
Above thy deep and dreamless sleep
The silent stars go by;
Yet in thy dark streets shineth
The everlasting Light.
The hopes and fears of all the years
Are met in thee tonight.
2. For Christ is born of Mary,
And, gathered all above
While mortals sleep, the angels keep
Their watch of wond'ring love.
O morning stars, together
Proclaim the holy birth,
And praises sing to God the King,
And peace to men on earth.
3. How silently, how silently
The wondrous gift is giv'n!
So God imparts to human hearts
The blessings of his heav'n.
No ear may hear his coming;
But in this world of sin,
Where meek souls will receive him, still
The dear Christ enters in.
Video
Mary and Joseph Travel to Bethlehem
(To easily find all the videos for the Christmas Countdown Book, follow my Playlist on Youtube!)
Ornament
This was a super fun ornament to make. I got the inspiration from shakentogetherlife. It was fairly simple and only required some old fashioned clothespins, hot glue, thin craft wire, and a metallic star sticker.
If you don't want to make your own, here are some other options:
Check out my Christmas Ornaments Pinterest Board for even more ideas!