Looking for a Christmas present that is sure to be in stock? Here are my top 10 all-time favorite movies that I'm pretty sure anyone would enjoy!
We don't own a bunch of movies. I am under the same impression with movies as books. You can check them out from the library or rent them cheaper than owning them (and it takes up less space!) You know when we actually purchase a movie, that it is truly a favorite.
I have them broken down my favorite movies into two groups:
Kids/family list that our entire family loves
Movies I enjoy, most of which my husband doesn't mind watching too much.
Just a disclaimer, if you aren't into witty humor, you may not love any of these. I am all about movies with clever jokes and good, clean fun.
(this post contains affiliate links)
Kids/Family Movies
Bedtime Stories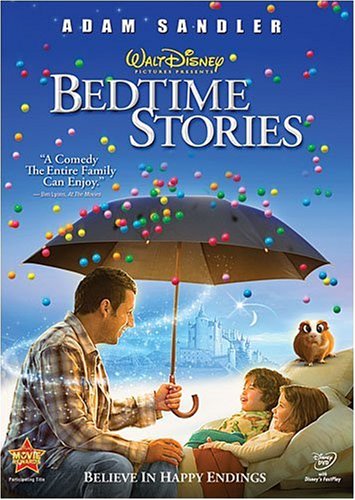 Adam Sandler stars as Skeeter Bronson who works as the handyman at a hotel that he was promised be the manager of. Skeeter is given charge of his niece and nephew for a few nights and tells them bedtime stories to get them to sleep. He soon realizes that the parts of the story his niece and nephew add come true. We love the clever ways that the bedtime stories come true. There are plenty of funny one liners, and the movie is squeaky clean for kids.

This movie tells the back story of how Mr. Peabody, a dog, came to adopt Sherman. Mr. Peabody invents a time machine that he takes Sherman in to learn all about history. In efforts to prove himself to a peer, Sherman accidentally goes back in time which threatens to alter history. We first watched this one on Netflix. Now that it isn't on there anymore, we definitely need to purchase it! We love the animation, and the clever, witty humor.
Horton discovers that an entire community lives on a 'speck' and becomes an outcast in his own community as he goes to great lengths to protect the speck. Super funny dialogue especially from the mayor of Whoville who has 96 daughters. (I love the part when they all ask for a drink of water at bedtime). Based on the Dr. Suess book Horton Hears a Who
Alfalfa is trying to woo Darla to sing a duet with him in the talent show. Alfalfa however belongs to a "he-man woman-haters club" which is trying to sabotage Alfalfa's attempts. This movie is funny on so many levels. There are so many quotable lines ("It's not like lumber grows on trees" or "How do you dial 9-1-1?")
Your classic Peter Pan tale with all the magic. There are no new twists to this movie, but this is the most magical version I have ever watched.
Movies I Love, and Hope You Will Too:

Rebecca Bloomwood is a shopping addict who after maxing out yet another credit card decides to get a real job. She applies and somehow lands a job writing the financial column for a business magazine as "The Girl in the Green Scarf". This teaches great lessons on how money works and of course, is full of great one-liners and clever twists.
Sophie goes on a pre-honeymoon with her fiance, but he ends up working the whole time, so she is left to tour Italy alone. She finds a long-lost letter written to Juliet and answers it, which brings the writer of the letter (Claire) to visit her in Italy. Claire and her grandson Charlie end up searching all through the country with Sophie to find Claire's first love. I'm not usually a big fan of chick flicks, just because I hate the girl falling in love with a guy that was a jerk throughout the entire movie. The only way that happens in this movie is because Charlie is protecting his Grandmother (extra points in my book).
Coming from a family of historians, Benjamin Franklin Gates follows a series of clues that eventually lead him to a National Treasure.  They encounter all sorts of crazy adventures while trying to solve the clues and get the treasure before the 'bad guys'. This movie has the perfect amount of suspense and Riley (a sidekick) offers the comedic relief. National Treasure 2 is also good, but leads you to believe there is a National Treasure 3, which I have yet to hear of actually being a reality.

Your almost typical Cinderella story, but so much better! This was the first VHS I ever bought (if that doesn't make me sound old). I recently watched it again on Netflix and still love it as much as I did then. I think I love it even more than the newest Cinderella that came out. My favorite is the ending where…Nevermind. You'll have to watch it yourself.

Neal Caffrey is a con artist that gets let out of prison to work with the FBI solving cases. Neal and his handler Peter build a relationship that is constantly tried as Neal solves cases and adds some side work of his own.
I've mentioned before how much we love this series. Pretty sure when it is no longer available on Netflix, we will be purchasing all the seasons. We have seen the entire show all the way through 3 times. We LOVE White Collar! It had the perfect amount of action, suspense, plot, everything. We started watching when only seasons 1 and 2 were out and when season 2 was over we both just shouted "no!" and talked about it for months until the next season came out. Seriously. Best. Show. Ever.
Hope this helps you with some additional stocking stuffers or gifts!
What are your all-time favorite movies?
If you want more movie recommendations, check out these posts: