Are you looking for a way to help your kids stay up to grade level over the summer? Here is a simple, low cost way to use your workbook curriculum again and again! Try these DIY Summer Learning Workbooks this summer!
During the summer, kids have a tendency to loose the skills they have learned over the past school year. I've written a whole post on how to prevent this "Summer Slide". I thought I would expound a bit on the workbooks we do each day. Putting together these workbooks is something that can provide long-term benefits to each of your kids at such a low cost! These DIY Summer Learning Workbooks are so easy you can put them together this summer for your own kids!
(this post contains affiliate links)
Do you remember those "review tests" at the beginning of each new school year? I would stare at those tests and wonder if I had actually learned any of the information that was on my paper. I always did well in school and got good grades, but those tests helped me realize that retention was not a strong suit of mine. To prevent my children from having the same experience, I put together these summer learning workbooks to help them retain the information they just learned.
Why Workbooks?
I love to see the sparkle in my kids' eyes when they figure something out for the first time. Teaching my kids and seeing them 'get it' is one of my favorite things. I get a little jealous that their teachers see all those 'aha' moments all year long! Seeing them find joy in learning is a large reason why I teach them as much as I can during the summer!
We get workbooks similar to these.
I don't have a brand that I am partial to, I just get whatever is the least expensive that fits my specifications.
My Criteria:
– teaches through many different methods (math word problems, math facts, etc.)
– lots of teaching per page rather than just fun pictures to look at
– color pictures
(I will say that we got the Brain Quest books and I really liked them, but I had to cut down each page so they wouldn't stick out over the sheet protectors. That was a bit annoying.) I have found these types workbooks at Walmart, Target, Costco, and even nearly new at thrift stores!
How to Make Your Own Workbooks
Tear out the pages and put them in sheet protectors. (get the smooth finish sheet protectors so they can be easily erased)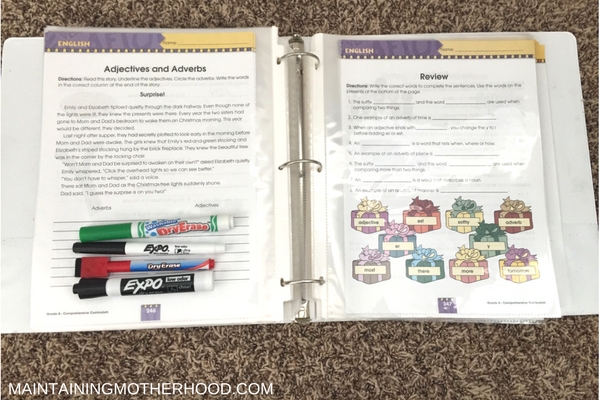 The kids write their answers on the sheet protectors with a dry erase marker and then wipe the answers off after I have checked the pages. We have tried many different markers in the past, but these are the ones that work best for us. They are ultra fine tip and come in a variety of colors. I stock up on these during the back to school sales.

Putting the pages in sheet protectors and using dry erase markers saves on TONS of money. We will have 6 kids using these same books! When we had our third kid go through the Kindergarten workbook, I did have to replace some of the sheet protectors, but that was mainly due to the fact that I had used lower quality sheet protectors. Still, the cost of purchasing a few sheet protectors each year is much less than I would spend buying each kid their own workbook each year.
The workbook pages fit into 2 different binders which works out perfectly. It gives the kids the option of working on their English/Reading workbook, or their Math workbook. Sometimes I will buy a separate math work book and language book if that grade covers a big topic. For example, Adding and Subtracting for First Grade and Multiplication and Division for Third Grade.
The Incentive
We sit down at the beginning of the summer and figure out how many pages they will have to do each day in order to finish their workbooks by the end of the summer. When they finish, they get $1 per workbook. (Small price to pay to encourage them, but to a kid, a dollar is gold!)
How Workbooks will Benefit your Child
Each kid completes the workbook for the school year that they are going into next. These workbooks allow me to get my fix of teaching my kids, and allows them to struggle in a safe environment where they can ask questions. They don't have to worry about the pressure of not knowing the right answer in front of their peers, or getting behind because a certain topic or subject is difficult for them to grasp.
I love sending my kids to school knowing that they won't feel unnecessary disappointment in themselves for forgetting things over the summer. If they are learning things for the second time around while they are at school, it will stick with them better. Or, if it was a concept they didn't understand completely with me, their teacher may be able to explain it in a way that they more fully understand. Win, win!
How do you teach your kids over the summer?