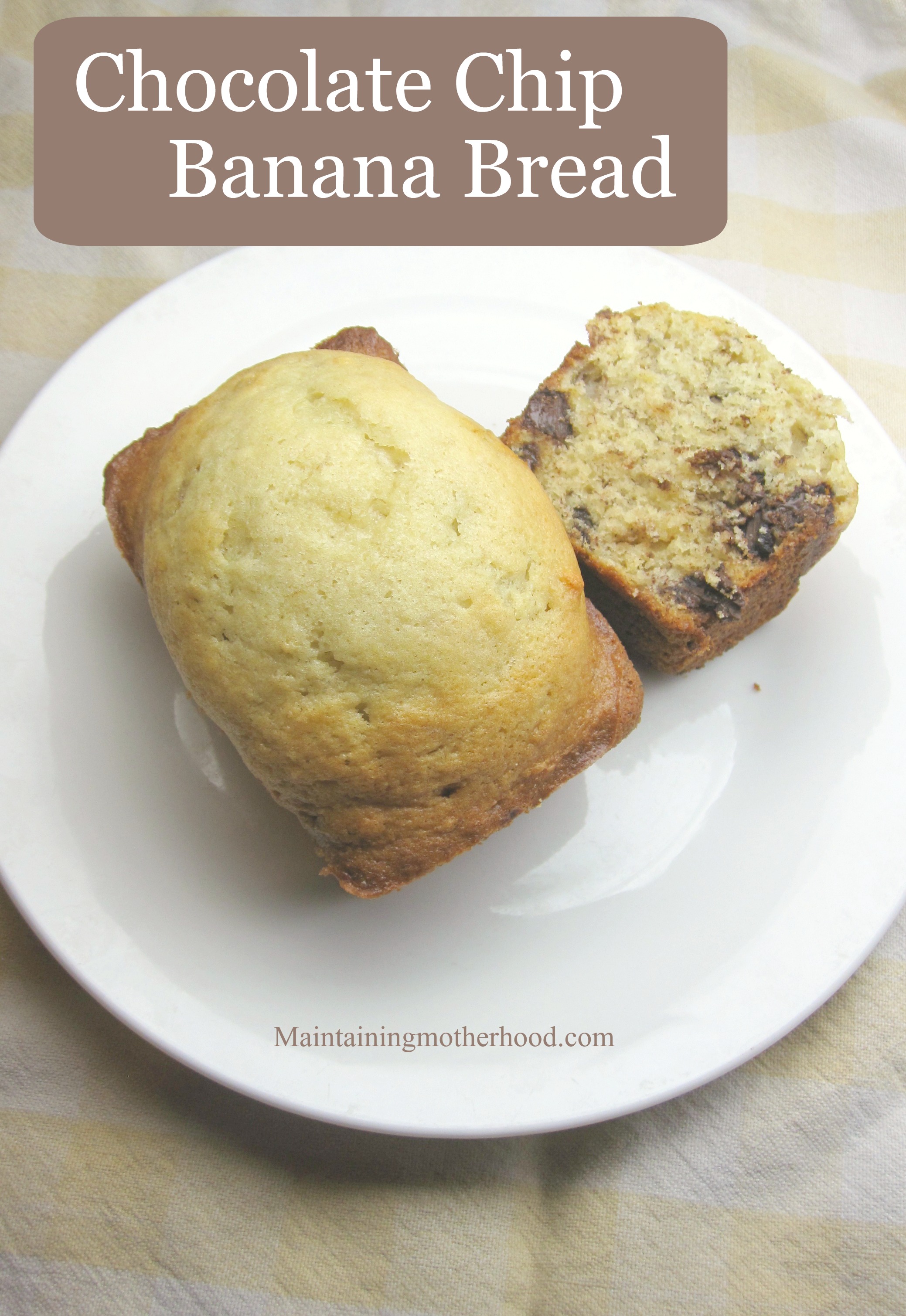 I haven't posted a recipe in forever. If you love perfect banana bread in the perfect size, this is the recipe for you! My kids love to eat the mini loaves for snack. We also had them for dinner tonight with omelets, hash browns, and fruit salad. Yum!
(This post contains affiliate links)
The stars seem to have aligned to post this. When I wrote about how much I loved my mini loaf pans last week, I got the hankering for some banana bread. We usually eat bananas very quickly around here, but I happened to have 3 overly ripe bananas, so we put them to good use!
Chocolate Chip Banana Bread
I used my good old Betty Crocker Cookbook for this recipe.
After getting the oven preheated and greasing my mini loaf pans, I mixed the sugar and butter.
Mix in eggs, banana, buttermilk, and vanilla. If you haven't tried real buttermilk I'm telling you, there is a difference! It is so easy to make your own from a start and have it on hand, so try it. You will never look back!
Mix in flour, baking soda, and salt.
Instead of adding nuts like the recipe suggests, we added chocolate chips. We are not really lovers of nuts. Chocolate is a totally different story though. We used about 3/4 of a bag of chocolate chips.
Fill those mini loaf slots and put it in the oven to bake. I have found the perfect baking time to be 25 minutes on the lowest oven rack setting.
When they are done cooking, try not to eat all of them at once! They are the perfect size for yourself, or if you are feeling generous you can split them in half!
Get the Recipe!
Chocolate Chip Banana Bread
If you love fresh banana bread in the perfect size, this is the recipe for you!
Author:
Alissa | Maintaining Motherhood
Ingredients
1¼ cups sugar
½ cup stick butter, softened
2 large eggs
1½ cups mashed ripe bananas (3 to 4 medium)
½ cup buttermilk
1 tsp vanilla
2½ cups all-purpose flour
1 teaspoon baking soda
1 teaspoon salt
½ bag chocolate chips
Instructions
Move oven rack to low position so that tops of pans will be in center of oven. Heat oven to 350. Grease mini loaf pan.
Mix sugar and butter in large bowl. Stir in eggs until well blended. Add bananas, buttermilk and vanilla. Beat until smooth. Stir in flour, baking soda and salt just until moistened. Stir in the chocolate chips. Pour into pans.
Bake loaves for 25 minutes or until toothpick inserted in center comes out clean. Cool 5 minutes in pans on wire rack. Cool completely before slicing.
What is your favorite banana bread recipe?