Do your kids clean bathrooms? With this Clean Bathroom Checklist, your kids will be cleaning bathrooms like professionals in no time!
Cleaning bathrooms…not my favorite task. Teaching children to clean bathrooms…even less of a favorite task. I'll never forget the first time I taught a kid to clean the toilet. As toilet water was flung everywhere, I realized exactly why some people choose to do all the housework themselves.
If you stick with it though, there is success. Now get my bathrooms cleaned once a week by little kids that do a mom-approved job because they have this clean bathroom checklist. I kid you not. Those bathrooms sparkle!
(this post contains affiliate links)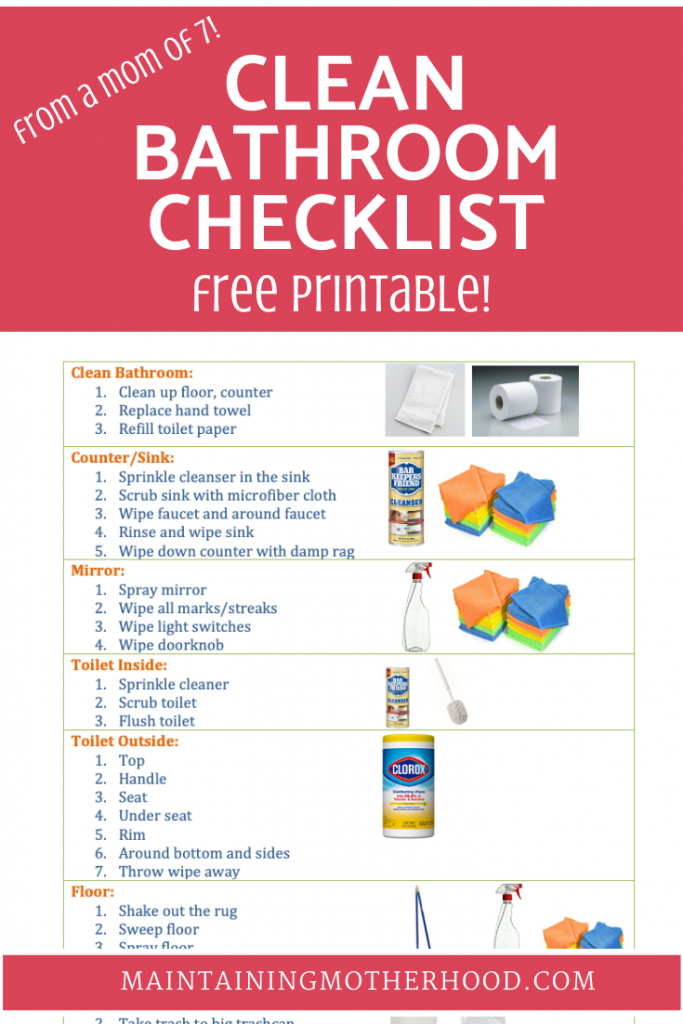 Why Teach Kids to Clean Bathrooms?
I will forever remember how appalled I was when I moved out on my own and had roommates who I swear were NEVER taught to clean a bathroom. They were not interested in learning and I was so disgusted cleaning the bathroom after them on the regular. I vowed that all of my kids would learn how to clean bathrooms to perfection so they would never become "that roommate".
Now, with 7 kids in the house, it makes perfect sense to teach the kids to put their dirty clothes in the laundry hamper, wipe their toothpaste out of the sink, and put their hair things away. I think it also makes perfect sense to teach them the skills that go beyond tidying and learn to really scrub the bathroom until it shines!
How to Teach a New Skill
Every time that I am getting ready to teach my kids a new skill or chore, I like to follow these steps:
Assign the new task as a chore
Teach the proper way to complete the chore
Work alongside the child 1 time
Monitor the chore while the child works independent 2 times
Pronounce the chore taught and passed off
All of this is a ton of work in and of itself, but then the kids learn to do it correctly every time. So, if I have done all these steps and my expectations still aren't being met, something on my part needs to change.
Why have a Clean Bathroom Checklist?
My oldest loves to clean and was a quick learner. My next child to clean bathrooms would do a really great job on everything they remembered to clean. It was hit or miss every time.
I soon realized that my second bathroom cleaning child works EXTREMELY well with checklists, so I made a colorful checklist complete with visual aids. The pictures eliminate me being asked exactly which cleaner or rags to use each week. The expectation of how the job should be completed is very clearly laid out even down to washing their hands when the job is complete.
Get your free printable here!
Favorite Products
Over the years I have learned that I am pretty picky about the products that I use. When having kids clean the bathroom I found it is important to limit the amount of chemicals they use. I don't want to be giving them anything that is extremely toxic or will damage any clothing or nearby surfaces if spilled.
Mirrors and floors: My go to cleaners for all mirrors and floors are a mixture of vinegar and water.
Toilets: We recently switched cleaning inside our toilets with Ajax to Bar Keeper's Friend since it doesn't have bleach in it, thereby eliminating clothing stains. We also use disinfecting wipes to clean the toilet so we can easily throw it away and eliminate toilet germs getting everywhere.
Sinks and counters: I have found that microfiber cloths are great for cleaning! I find that the size is usually too big for little hands, so I have cut our microfiber cloths into quarters so they are more manageable and don't drip everywhere!
Showers: For our shower, we use my absolute favorite shower cleaner.
Cleaning bathrooms is certainly not the most glamorous of chores to learn to do, but I have found that it is one of those chores that the kids get a real satisfaction out of being able to pass off. The first few times they can do the bathroom all by themselves, they are sure proud of themselves. Yes, the glamor of the job wears off eventually, but knowing that they can do one of the "big chores" is such a good life skill!
How do you teach your kids to clean bathrooms?