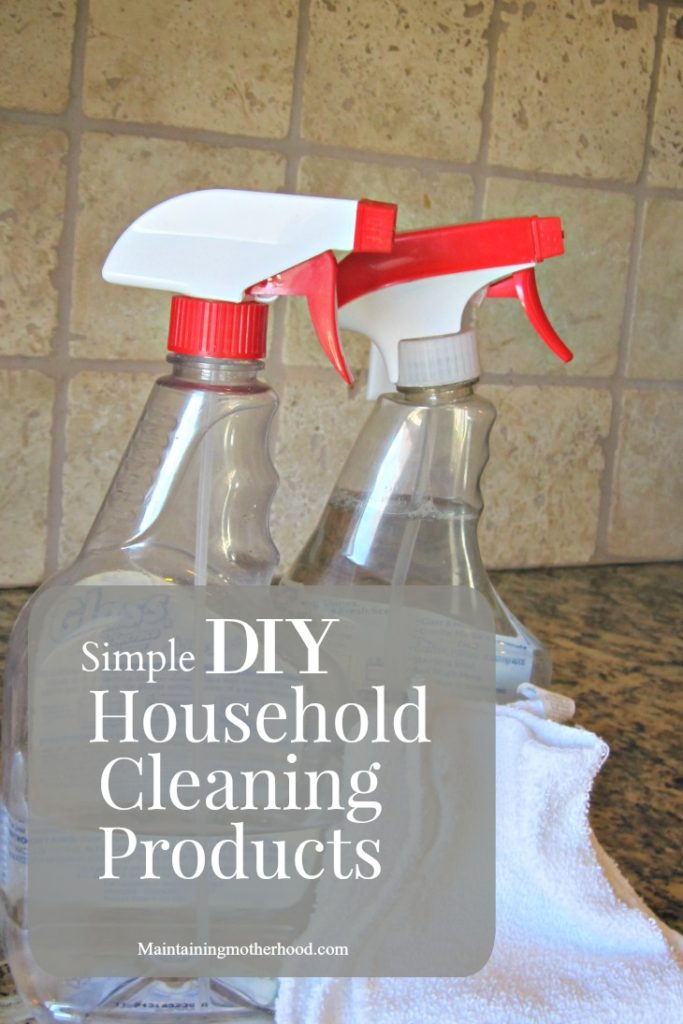 Household cleaners can be expensive. With little kids around, danger is a huge factor as to why I started making my own cleaning products. Here are two of my everyday cleaning products that I have recently refilled while deep cleaning my kitchen (and it only took me 5 minutes total to make both!)
It's interesting when you go to buy any cleaning product at the store. There are cleaning products created specifically for each and every task. By making my own household cleaning products, I have reduced the amount of chemicals/commercial cleaning products that I buy. Two products that I still buy are Comet or Ajax (whichever is cheaper) and Clorox Disinfecting Wipes. Everything beyond that, I make myself. Once I started making my own cleaners, I realized two things:
How much of the liquid cleaning products we buy in the store are really just water
how fast and easy it is to make my own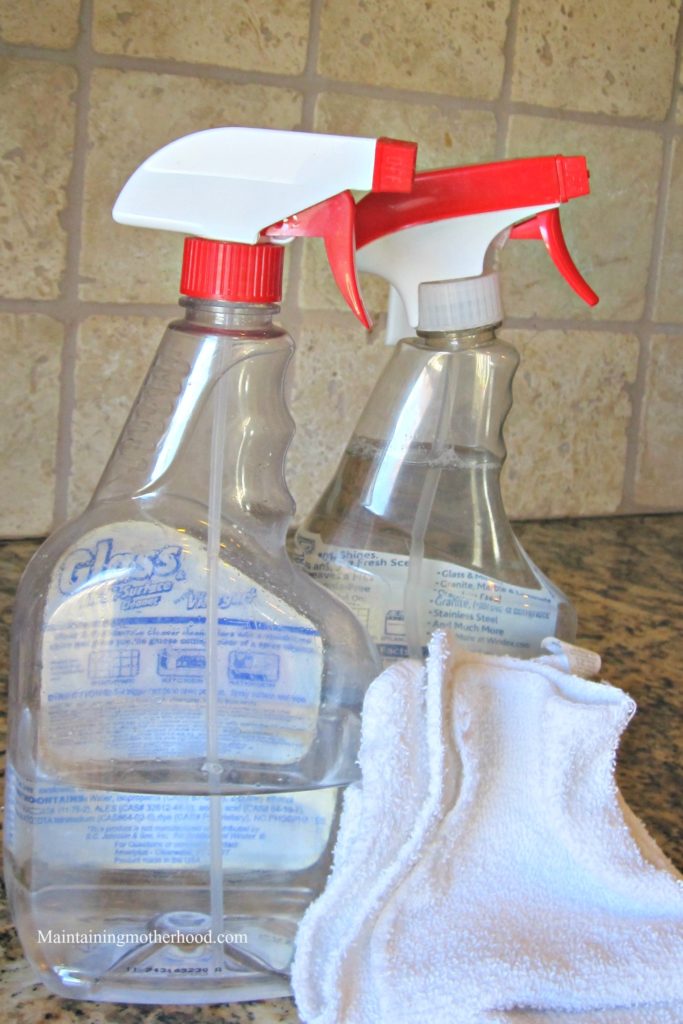 I found that I can clean pretty much anything with a basic all-purpose cleaner. I use it on countertops, floors, tables, windows, mirrors, cupboards, cleaning the fridge, car interior, etc. It really is all-purpose. The only thing that I don't use it on is our granite countertops. For that I have a different cleaner I have made. Again, super easy and inexpensive to make. Let's get started!
All-Purpose Cleaner
Fill a bottle 1/3-1/2 full with vinegar
Fill the rest of the way with water.
Done. Yep. That's all you do. If you want it to smell a little less like vinegar, you can add some essential oil drops, but we go through this stuff so quickly, I don't bother. There are always messes to be cleaned up. The best part is that it is totally safe for me to let a kid use. I don't mind if they get that on their hands or clothes, because it is not going to hurt them one bit. I buy my vinegar at Costco which is a huge savings over the grocery store price, so making this as opposed to buying an all-purpose cleaner clearly saves you money.
Granite Countertop Cleaner
1/2 cup alcohol
10 drops dish soap
Fill with water (24 oz)
Again, super easy, right? Vinegar can wear away the granite countertop finish over time and water wasn't working for me. We had hard water so the countertops were always gritty. I also worried that the countertops weren't truly clean after working with eggs or raw meat. Because of the alcohol in the cleaner, this dries super quick and leaves a nice smooth finish on the counter tops again. Alcohol goes on sale at the grocery store for about 50 cents during the summer time, so I usually buy a couple to last the whole year. Again, significant savings as opposed to buying a specific cleaner.
Are you convinced? All it takes is some old cleaning bottles, 5 minutes, and a desire to save significant dollars on your cleaning products. With this, you also have the added benefit of less chemicals in your home.
Maybe next time through my cleaning rotation I'll make cuter labels!
Do you make your own cleaning products?