Does your vacuum suck? If not, learn how to deep clean your vacuum: clean filters, unclog, and detangle the nasties to increase the life of your vacuum!
(this post contains affiliate links)
I know this sounds like the weirdest thing, and really, who cleans their vacuum? Well, when you notice that your vacuum is mysteriously dusty, pretty sure, you will want this info.
Before I start, there is a MAJOR disclaimer. Please don't judge me by the disturbing images you are about to witness.
Deep Clean Vacuum
We have a Riccar Brilliance vacuum that I LOVE! (similar to this one).  It was pretty pricey, but it actually cleans! When I vacuumed our carpets for the first time with this thing, I nearly filled an entire vacuum bag. This vacuum really sucks! We bought it through a local vendor, so it also comes with a yearly free cleaning/tune up.
I noticed one morning as I was using the vacuum that the outside was unusually dusty. I opened the cover and this is what I found:
Isn't that disgusting? I'm not sure exactly what happened, but somehow the vacuum bag had come loose. Most likely it was a child playing with it, or me not putting the bag in correctly. All the gross stuff the vacuum had been picking up was stuck to the outside of the bag with static electricity. And the inside of the vacuum looked like this:
Look at the layers of fine silty stuff. Oh, it made me want to throw up it was SO gross. What did I do? Grabbed my camera to document every detail of this experience and share with you how to detail your vacuum!
I am the type that if I am going to do a dirty job, I'm going to do it well. I wasn't going to just do a little dusting and call it good. I was going to completely clean this thing and do it right.
Because the cover wasn't on, and the bag wasn't hooked up, I couldn't just vacuum up the mess. I decided to just forget about the major stuff at the bottom for a minute and start with the filters.
Clean the Filters
The filter was pretty caked in grime. I just brushed the chunks into the garbage and then rinsed it until the water ran clear into the sink.
I set it outside to dry while I continued working.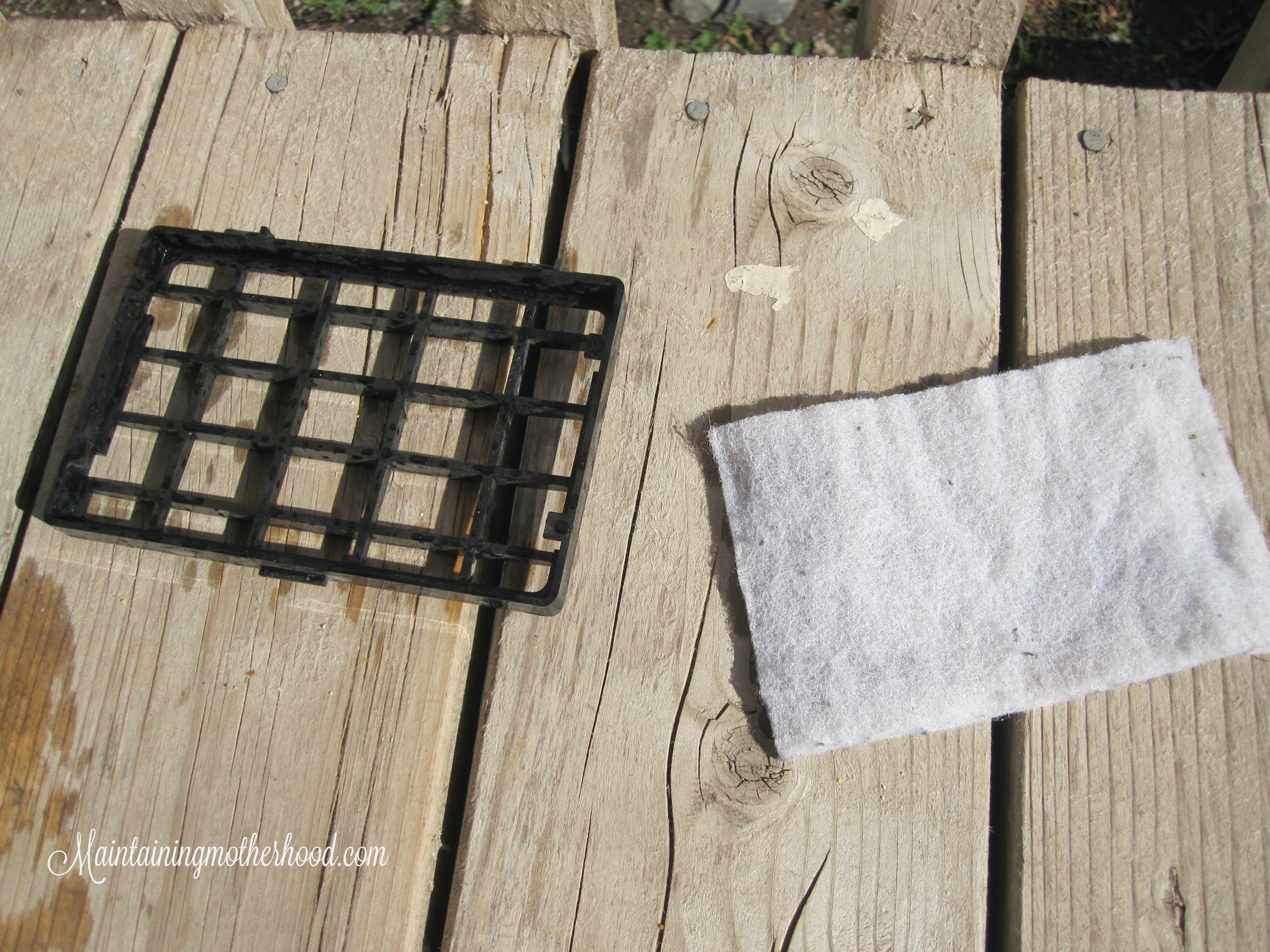 There are two more filters. One is super flimsy and doesn't really need to be washed because it is so thin. The other is under the hood of the vacuum, so you have to push the pedal that makes the handle go down to access it.
I took out that filter, washed it and set it outside to dry as well.
Clean the Roller Brush
Here's the part that really might make you gag. Lay your vacuum down so the brush part is exposed and try to not get grossed out. I dare you! Lucky for me, I try to clean this out fairly regularly since we have 3 girls and I don't want hair getting wrapped around the brush and burning out the motor. I just grab my handy dandy seam ripper and run it right along the front edge to cut the hair off super easy.
Here's the result. Gagging yet?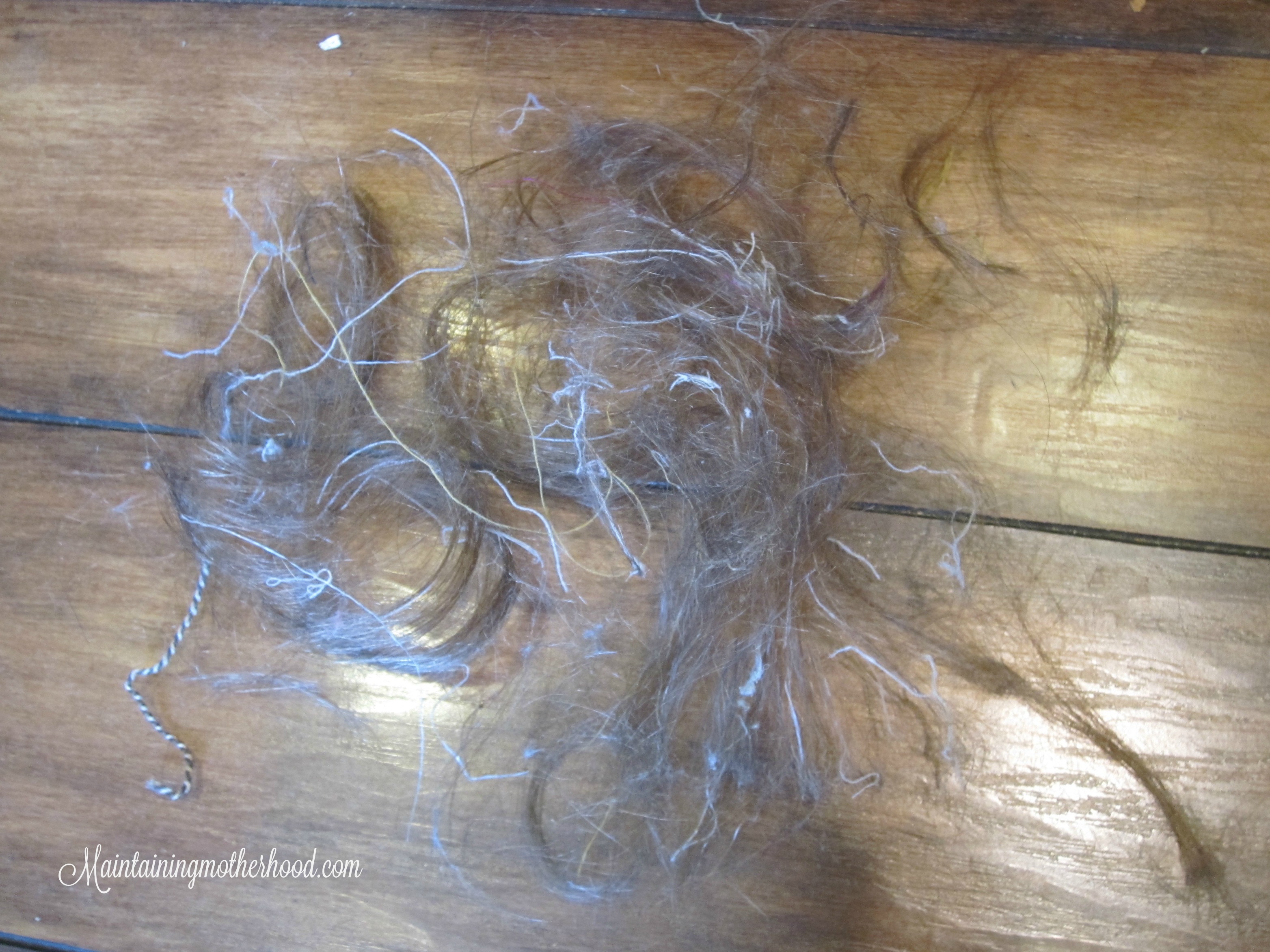 Doesn't this look so much better though?
Deep Clean Interior
At this point, I had tried using a wet rag to get in all the nooks and crannies, and nothing seems to work because there were just so many little crevices! I got out yet another sewing tool and brushed it in all the little corners.
Check Hoses for Clogs
SO much better! I made sure the filters were dry before I put them all back in. I also checked the inside of the hose (at the end that attaches to the vacuum) to make sure there were no clogs inside.
Installed the bag. Don't worry, I double checked that the bag was on nice and snug this time!
And there you have it! A vacuum that looks as good as it works!
Hopefully your vacuum won't explode, and you will never need to use this information. But, if your vacuum doesn't come with a free yearly service like mine does, this would be a great thing to do at least once a year so your vacuum continues to run well!
Have you ever had a vacuum nightmare?