Have you tried memorizing The Living Christ with no success? Find great tips for memorization and a free church quiet book printable!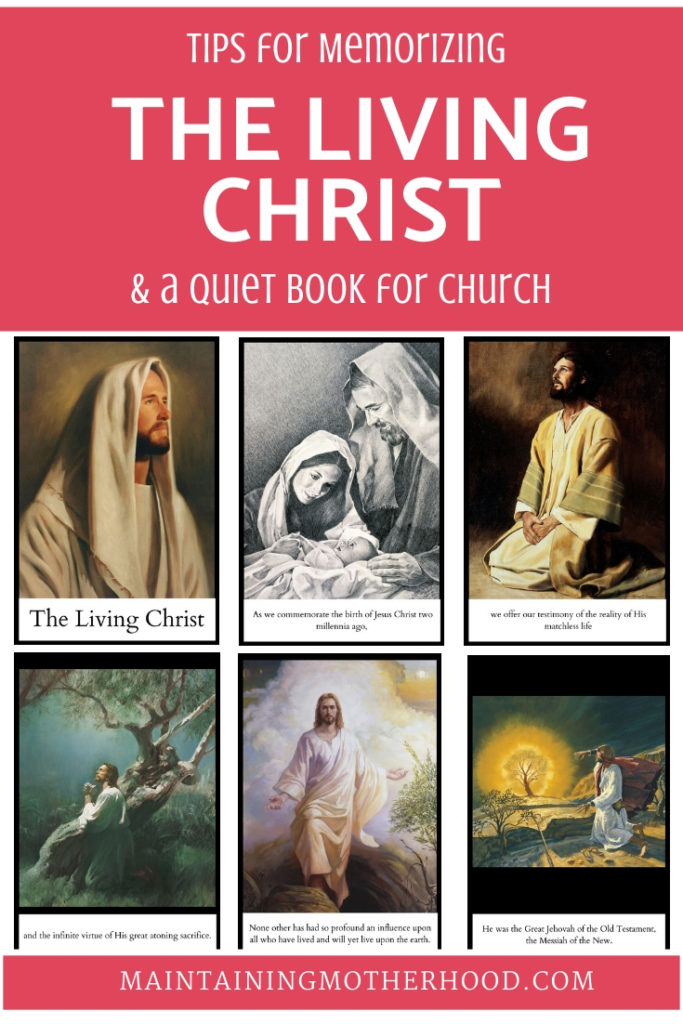 As a family we decided we wanted to do something special to prepare for the upcoming General Conference of The Church of Jesus Christ of Latter-Day Saints. We have been encouraged by our prophet to prepare for the celebration of 200 years since the heavens were opened and the gospel of Jesus Christ began to be restored again to the earth.
General conference next April will be different from any previous conference. In the next six months, I hope that every member and every family will prepare for a unique conference that will commemorate the very foundations of the restored gospel.

You may wish to begin your preparation by reading afresh Joseph Smith's account of the First Vision as recorded in the Pearl of Great Price. Our course of study for next year in Come, Follow Me is the Book of Mormon. You may wish to ponder important questions such as, "How would my life be different if my knowledge gained from the Book of Mormon were suddenly taken away?" or "How have the events that followed the First Vision made a difference for me and my loved ones?" Also, with the Book of Mormon videos now becoming available, you may wish to incorporate them in your individual and family study.

Select your own questions. Design your own plan. Immerse yourself in the glorious light of the Restoration. As you do, general conference next April will be not only memorable; it will be unforgettable. (see full talk here)
The special project we decided to take on was to memorize The Living Christ: The Testimony of the Apostles.
Do you see how LONG that is? How in the world can we get our family with kids as young as two to memorize this? We felt inspired to do it, so I began my hunt for valuable resources.
Music
There are only a few songs available online with the words from The Living Christ. We found one that was catchy, broken up into a few different verses, and wasn't too cheesy. The woman has a stronger vibrato, so the kids think it is still cheesy, but it serves the purpose. (Sorry if this hurts anyone's feelings, but I just want to be completely honest. My kids also laugh at the older Disney Princesses singing, so I could have offended twice as many people just by saying that).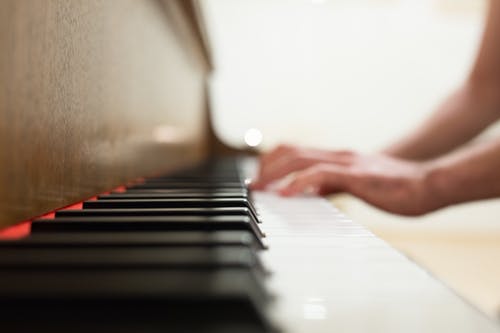 The music we use was created by Carrie Maxwell Wrigley and is separated into six different songs to help make memorization easier. You can get the individual verses or the entire song (which is 14:34 long!). You also have the option to play each one with vocals, piano, or guitar, and even comes with the option to download the sheet music for piano! Does it get much better than that?
Visual Aids
When I started the search for a visual reminder for my family, I knew exactly what I wanted. I was looking for something that was vibrant and beautiful that I could hang on the wall, but didn't include so many tiny little pictures that we might as well wallpaper an entire room.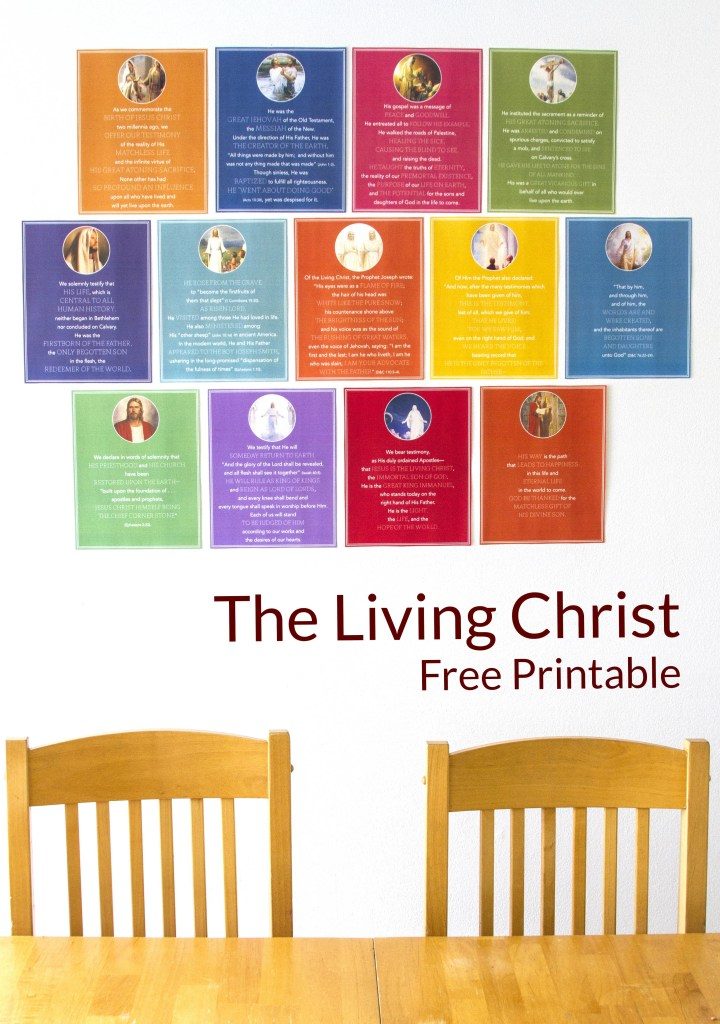 After months of searching, I finally found the perfect set! We printed them all up and put them on our wall as a visual reminder, and for the kids to actually see the words in print. (The photo above is from the blog ajacksonfamily.com . We ended up setting our pictures up the same way!)
Quiet Book
I had the idea years ago to make a quiet book of The Living Christ. This was just the motivation that I needed to actually print it out. You can download all of the pictures here for free. Most of these pictures come from the Gospel Library Inspiring Media by The Church of Jesus Christ.
These can be printed as 4×6 photos and put in a small photo album. My kids love looking at this during church on Sundays which also helps solidify the memorization process. Here's the link to get The Living Christ Quiet Book.
I hope this helps The Living Christ become more available to you and your family. I have had the dream to put together this book for so long and to see it actually printed out is a dream come true. My kids love it as much as I hoped they would!
How have you used The Living Christ in your home?