Every year in April and October, our family watches tv for two entire days! For a family that doesn't watch much tv in the first place, this is a treat for our kids! The real treat though, is that we are blessed to hear from a living Prophet. It isn't perfectly quiet or reverent the whole time, and there are some talks that my husband and I may miss altogether because of the kids. Nevertheless, we are creating a family tradition that we hope they will carry on to their families someday.
Why Do We Need General Conference?
I love General Conference. When I prepare questions I am seeking answers to, I get so much more out of it, than if I just show up to watch. Right now in my life, I am obviously pretty focused on ways to improve myself, and better my service as a mother. I am especially appreciative of talks that address these topics.
If we don't prepare, Conference could be an extremely boring eight hours of television! I'm not sure exactly what we have done to create Conference weekend as something that the kids enjoy, but I'm glad they look forward to it! Like any holiday or special event, I'm thinking it's probably the food, but I'm not quite sure. I will share with you all of our ideas and traditions, and you can pick and choose what works best for your family!
Meals
I try to keep the meals fairly simple so that I am not spending all my time in between sessions cooking. (On Saturday, the sessions are from 10AM-noon and from 2PM-4PM as well as a Priesthood session from 6PM-8PM. Sunday, the sessions are from 10AM-noon and 2PM-4PM, plus Music and the Spoken Word at 9:30AM.)
Saturday:
Breakfast: doughnuts
Lunch: sandwiches
Dinner: anything fast and easy since my husband leaves to attend the Priesthood session.
Sunday:
Breakfast: A big special breakfast while we listen to Music and the Spoken Word
Lunch: sandwiches or leftovers
Dinner: something in the crockpot that we have been smelling all day long
Treats
(See what I mean about food being the favorite thing?) During the congregational hymn, or half-time as we have sometimes called it, some sort of treat is distributed. We will usually mix up an assortment of special sweet and salty treats. Pretzels and crackers mixed with favorite candies is always fun. Lots of little finger foods and fruits go a long way in keeping little mouths busy!
Games
No Conference would be complete without Conference Bingo! We have a bunch of boards for the kids to choose from. (Get your own free printable here!)They get a dish of M&Ms or other small treat and listen closely to the talks to get a Bingo from words, phrases, or topics discussed.
Here are a whole bunch of great printable activities for your kids to do! This includes a Conference Notebook, Conference Bingo, Coloring Pages, and Activities based on Conference. We have printed out packets similar to these for the kids to follow along with. They enjoyed coloring the tie to match the speaker, completing the word search, etc. Sometimes we will also pull out old copies of the Friend magazine and have the kids complete the activities inside. Regular old coloring books are always a hit too.
Special Activities
We want the kids watching and listening to General Conference, but we also have to keep our expectations realistic. We will rotate quiet toys out at "half-time" to keep the younger kids interested, engaged, and quiet. These toys usually involve any type of quiet play. Legos, Tinker toys, and a bucket of fun little Dollar Store toys we keep just for this special occasion.
Check out this list of 53 Ideas for Kids During General Conference.
Between Sessions
In between sessions we try to do something to get the extra energy out. We will go on a long walk or play at a fun playground. The little kids nap during the afternoon session with Conference quietly playing on the radio in their room. The bigger kids watch with us and are encouraged to take good notes or listen extra carefully with less distractions.
Follow-Up
We try to prep everyone at the Family Home Evening before Conference to look for something specific in the talks. Maybe it is a question they have, a favorite speaker they look forward to hearing from, or something the have learned about in Primary or Family Home Evening that they want to learn more about.
We give our kids the opportunity to share their favorite story told, or talk given during Conference day meals. As we sit around and discuss, we learn from each other. I love seeing the kids getting excited to look for things in the next sessions so they can share with everyone.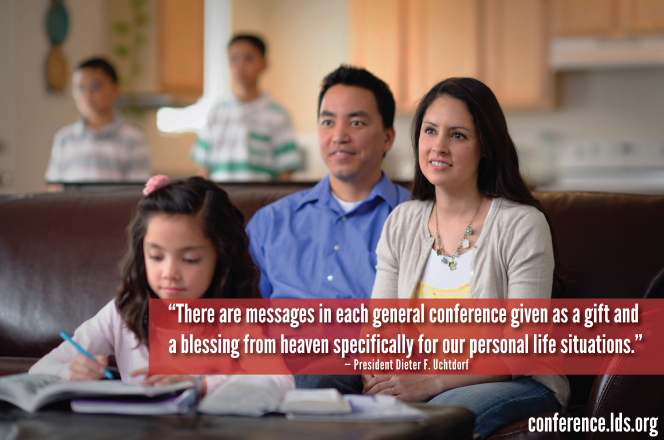 During the next six months, we listen to one Conference Talk each Sunday. The kids rotate through who chooses the talk. The child that chooses the talk then leads the discussion on what they liked or learned about that talk. By doing this, we listen to nearly every talk again before the next General Conference rolls around.
Watch General Conference
If you have never watched General Conference before, it is a time where you hear from the Prophet, 12 Apostles, and members of other church auxiliaries. Topics for their talks encompass subjects from helping increase your faith in Christ, strengthening home and family, serving others, etc. If you miss General Conference or want to listen to or watch a specific talk again, all Conference talks can be found at lds.org.
To tune in, you can view a live stream at lds.org.
I love General Conference and the encouragement it gives me to keep going amidst the trials of life. I leave these two days full of goals, ideas, and ways to improve myself and my family.
What General Conference Traditions do you have?