Do you find yourself buying double the amount of shampoo as soon as you teach your children to wash their own hair? Have you watched your kids pour shampoo right down the drain? Try this simple Mom hack for no more wasted shampoo!
I love it when I find "Mom Hacks" or "Life Hacks" that can simplify life and make things less stressful. With simple supplies that you surely have laying around your house, you can solve this problem before your kid's next shower!
(This post contains affiliate links)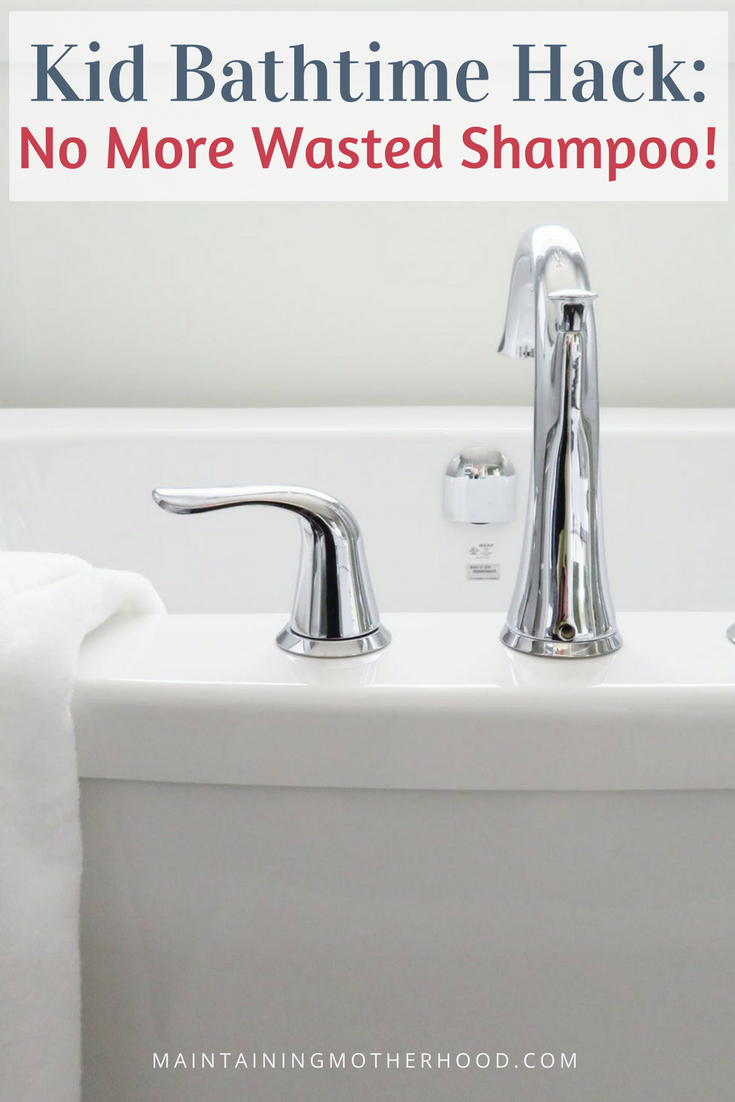 The Problem
We really try to teach independence to our children. As soon as they are able and show an interest, we enlist their help in showers and baths. One thing we have found though, is that kids love bubbles. I have seen time and time again where the soap is played with more than actually used to wash their bodies. Not only is this wasteful, but it can become a slippery hazard to little ones!
To solve the problem of too many bubbles from soaps and shampoos, we figured the kind that come in pump bottles would be perfect. We realized fairly quickly that these bottles are manufactured in a way that it pumps the correct amount for one adult, or two children. So we still had a bubble problem.
The Solution
We decided we would use old soap containers for the body wash, conditioner, and shampoo in the kid showers. The kids are now able to get a squirt or two all by themselves and it is the perfect amount every time! Even the youngest can easily pump the correct amount to shower their little body.
You could very easily jazz the containers up by making fancy labels, but let's get real here for a minute. I wanted to try the idea out first to see if it would actually work. It worked so well we have done it ever since. And, I'm pretty sure the kids aren't going to wash any differently whether it has a fancy label on it or not!
Other Tips
We have been using body wash and loofahs for awhile now. The bar soaps were always being played with and ended up in all sorts of different shapes before the kids ever used it to wash their bodies. I find that the bar soap also leaves a soap scum residue that I get tired of scrubbing off. By using a liquid soap, any extra spills are easily rinsed off.
At first I worried that the shampoo, conditioner, and body wash would be too thick to squirt out. We have never had a problem with that and have been using the same pumps for years now. They are super easy to refill too. I just check the containers when I bathe the little kids to make sure they don't need to be refilled. I'm pretty sure that the kids wouldn't be yelling down the hall for me to refill the soap. We would just have 'naturally' scented children…
Seriously, something this easy made such a difference for us! I don't have to monitor how much shampoo is just being washed down the drain because of the 'uh-oh' explosions anymore! I love that my kids are able to be that much more independent with their showers than before!
What bath time hacks do you have?