After you have connected to deceased ancestors in FamilySearch.org, what's next? Learn to use the views in FamilySearch.org to find your relatives!

Learning to Navigate on FamilySearch.org
Show the Icons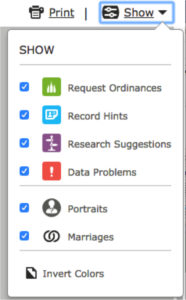 The first thing you want to do in FamilySearch is make sure all the icons are selected. Click onShow (upper right-hand corner) and check all the boxes to see what information is available to you.
Landscape View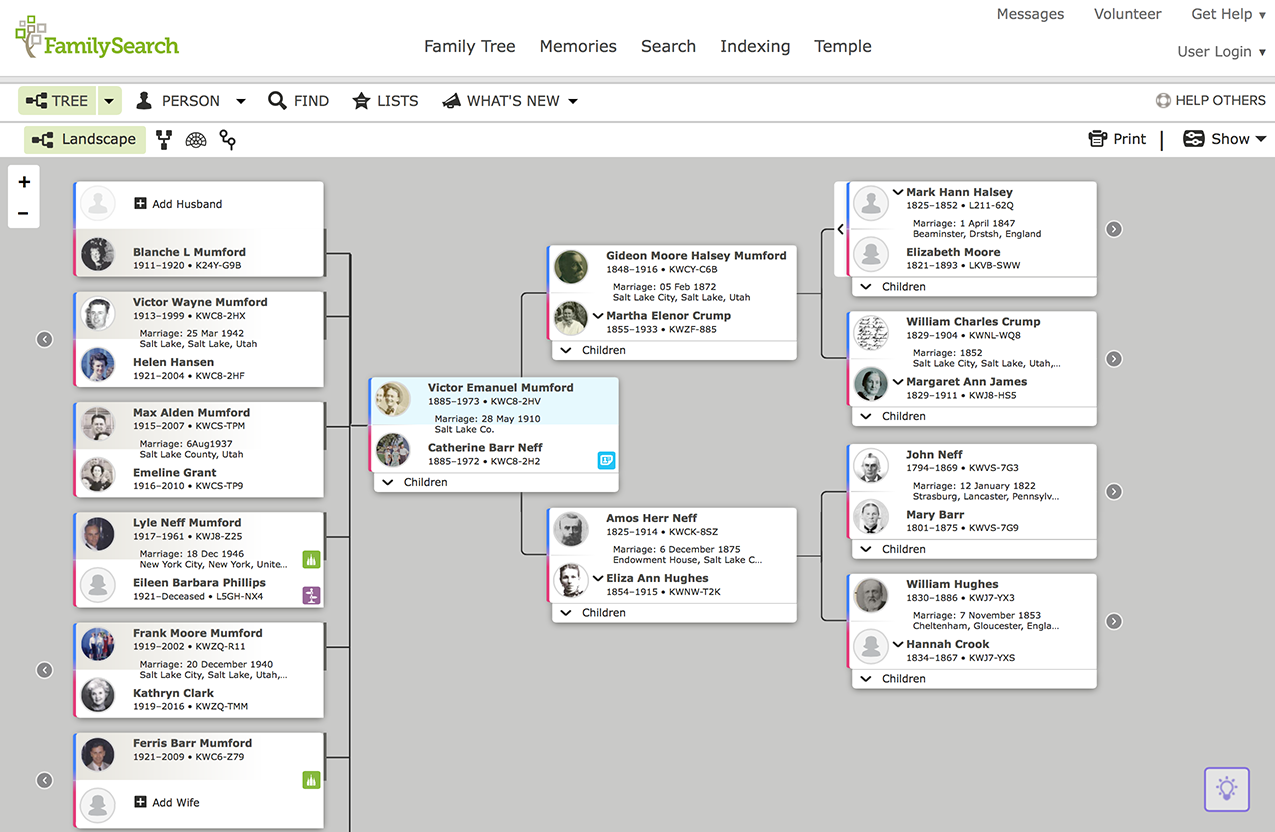 Benefits:
Easily add new people to your Family Tree
Quickly search along a single family line
What to Look For:
Blue Record Hints
Temple Icons (If looking to do temple work)
Fan Chart View
Benefits:
Easily find 'holes' or where the family line stops (in this picture, where there are grey boxes instead of names in the upper left-hand corner)
Quickly branch out by changing who is the center of your fan chart. To do so, hover over the name of the person you want to be the center. When the mini fan icon appears, click on it. The person in the center will change!
What to Look For:
Holes in your Family Tree
Descendancy View
Benefits:
Quickly find work to be done, information to be corrected, etc.
What to Look For:
Blue Record Hint icons: attach indexed documents
Purple Research Suggestions: icon looks like a broken chain link
Red Data Problems: icon is an exclamation point
Temple icons (if looking to do temple work)
Portrait View
Benefits:
Easily see pictures of family members making them more real.
If you are looking for stories and memories of family members, the ones with the pictures are more likely to have journal entries, and other photos linked to the individuals.
What to Look For:
See which relatives have memories added to them.
Record hint icons are also displayed
Play around with the different views and features available through FamilySearch.org. I personally use the Landscape View and the Descendancy View the most. I use each one for different tasks that I will discuss in later lessons.
This is Lesson 2 in the Series. Check out the Intro and Lesson 1!
Have fun navigating the views!