How did you do on your Deep Cleaning the Kitchen Challenge?
February was the Deep Cleaning/Purging of the Kitchen. If you haven't already gotten the checklist, you can get it here.
This area wasn't nearly as bad as I thought it would be since I had actually purged and donated quite a bit back in December to donate household items to families in need. I did still donate quite a few items, and made simple changes that have brought about great results. I kept in line with keeping only things that bring me joy. Follow along on the checklist and we will review my progress in each area. (I wish my pictures were better, but it is February and most days are cloudy or stormy.)
General:
Nothing too amazing here. Blinds are usually pretty dirty at the bottom from kids lifting them up to see outside. I cleaned the windows just yesterday only to find my toddler licking his finger and drawing on the window today. This my friends is why I have a deep cleaning rotation. Everything gets messed up quickly around here. Rather than being on his case for messing up the windows, I know it will happen again many more times. Putting it in a rotation, I know I will get around to cleaning it again eventually.
Counters:
This is one of those major changes for me. I decided to empty my counters of most everything. I decided to keep out our fruit bowl on one counter and the mixer (only because it's so heavy to put away) on the other counter. What did I clear off? My Family Cookbook, the toaster, and a vase holding the mixing spoons and large utensils. I cannot tell you the difference this has made! It seems like such a simple, silly thing, but it makes the whole kitchen seem much more clean.
Cupboards:
Here is what I did in each cupboard:
Removed paper plates and other disposable eating items from this cupboard and stored them in the pantry. Moved the vases in here instead.
Donated extra mugs and threw away extra kid cups that were past their prime.
Discarded old pans, unused kitchen items, and stored the toaster under the counter.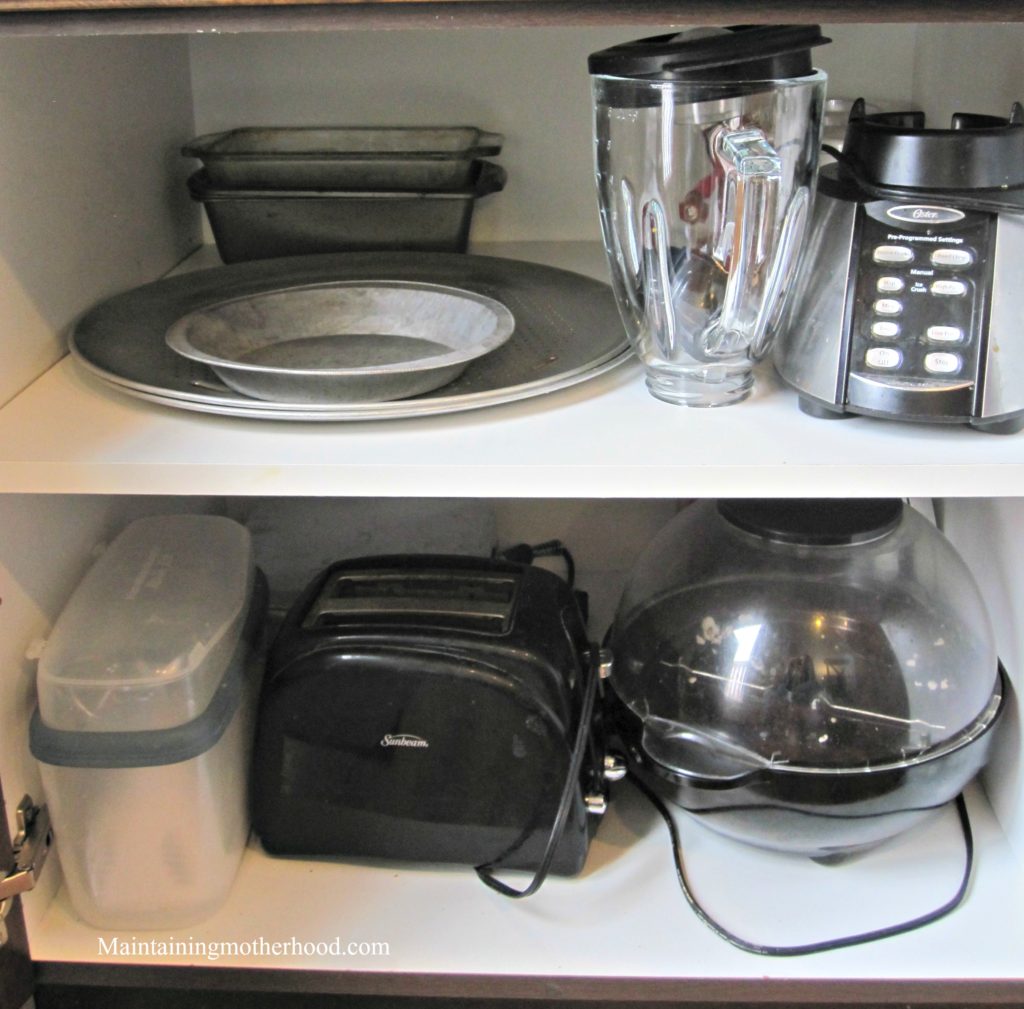 Cleaned out drawers. See how I organize my silverware drawer here. The kids were supposed to fold the rags. You win some, you lose some. Provided a more organized area for school lunch preparation.
Again, discarded sippy cups. The boxes store bottles, baby spoons, and extra sippy cups. I got rid of any loose recipes, and now store extra kitchen utensils that we use maybe once or twice a month in that granola bar box.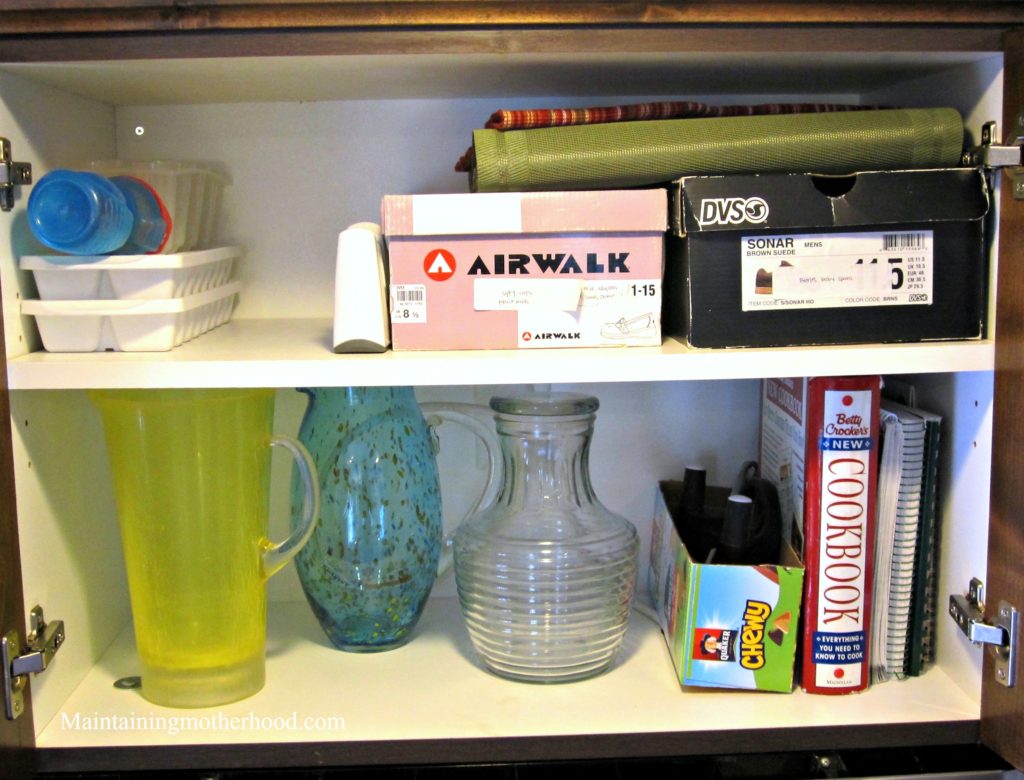 Cleared out any spices I hadn't used in the last 6 months and gave them to family members. I have baking/sweet spices on one shelf, and savory spices for cooking meats and such on the bottom shelf.
Donated knives, glass bowls that were unused and had no lids and put the colander in a more accessible spots. Knives are stored in the cupboard away from little fingers.
I thrifted the file organizer for 50 cents because I wasn't sure if it would work. I LOVE it!
Organized the pots and pans and moved the colander so it was easier to get to when I needed it.
Whew! That was a lot of pictures!
Dishwasher/Under Sink Storage:
Nothing too amazing here. The biggest change is usually just washing out the garbage can, recycling bin, and rag bucket.
Pantry:
Quite the overhaul was needed here. I got rid of any food that we are not likely to eat including any food storage items. Then, I decided to store larger items that had been on the top shelf (like drink coolers and emergency water filters) out in the garage to give us more room for food. I relocated the paper plates and other disposable eating items from the cupboards into the pantry as well. And then, I lifted my personal ban on the Dollar Store. They had some great baskets that worked perfectly to corral some of the crackers and other snacks for the kids. I want to go back and get more, but I am being good and waiting until next month (only a week away now!).
Freezer/Fridge/Microwave:
I defrosted and deep cleaned the chest freezer
refrigerator,
and cleaned out the microwave.
How Did I Do?
I feel like I did really well on decluttering and deep cleaning the kitchen.
Items purged:
Returned: kitchen items we had purchased for Christmas that didn't exactly suit our needs
Donated to Goodwill or family: various smaller kitchen utensils that were rarely if ever used, random bowls with no lids, a roasting pan that is used once a year, spices and food we won't use that was still good
Trash: old kid cups, sippy cups, chewed on straws, loose recipes
Placed for sale online: as embarrassing as it is, we still have some bowls that have never been used that were a wedding gift.
I feel like I enjoy my kitchen more. There are empty spaces in my cupboards and on my counters, and there is complete organization everywhere.
My husband was looking for something the other day and he stopped and said "I should just ask you. You know where absolutely everything is right off the top of your head!" This organizational/decluttering/minimalist journey has more benefits than I can mention, but the feeling of freedom and letting go of things I don't need is the biggest. I spend so much time in the kitchen each day cooking 3 meals, 2 snacks, doing homework and various crafts. Having the space organized and clutter-free is amazing!
If you didn't get the Deep Clean Kitchen checklist, get it here!
How did you do on the Deep Clean Kitchen Challenge?