(This post has affiliate links)
I may have a slight obsession with benches. So when I saw this bench at a yard sale and found that it had storage space, I was sold! It was very solid, but a little too red for our decor. The top was sort of like wicker and had some some holes in it which I knew would lead to no more wicker within a week. Once the kids were in bed for the night, I got to work. (Sorry, the pictures are not amazing because they were taken at night)
Here is the before picture: 
Here are the holes in top. Just the right size for little fingers to pick at and ruin the cushion underneath!
Because the bench was in such great condition and the outside had a bit of a rough texture already, I didn't sand it down or anything. I used an old rag and rubbed on my very favorite Minwax Dark Walnut Stain.
I have used this before on a few projects and I love it! I had a hard time paying $15 for such a small can, but I still have half the can left and this is the third bench that I have used it with (I told you I had a bit of a bench obsession!)
Because of the finish on the bench, it wasn't really for a soaking in stain, it was more just a darkening the color that was already there. I did 3 quick coats to get it the color I was looking for. I debated spray painting it, but I liked the bamboo texture and didn't want to completely cover that up.
While I waited for the stain to dry, I worked on the top cushion part. First step was to cut the wicker off. I just used some good old fashioned scissors and got as close to the decorative edge as possible.
The cushion underneath was a bit stained and flatter than I wanted, so I decided to take that off too. As always, I used super high tech tools. This one called for a butter knife! I just lifted the edge of the foam cushion and gently scraped it off the board underneath where it was connected with adhesive.
I knew the for the top I wanted a cushion, but I wanted it to be something that I could easily take off and wash. I decided to wrap the old cushion in some batting that I had on hand to make it just a little bit more cushiony.
I also had a large scrap of a drop cloth left over from another project, that I sewed into an envelope pillow cover.
And for the after picture: Tah-Dah! I love it!
The bench has become the favorite reading spot and nicely stores all the cuddle blankets for movie night.
Here's the before and after picture together: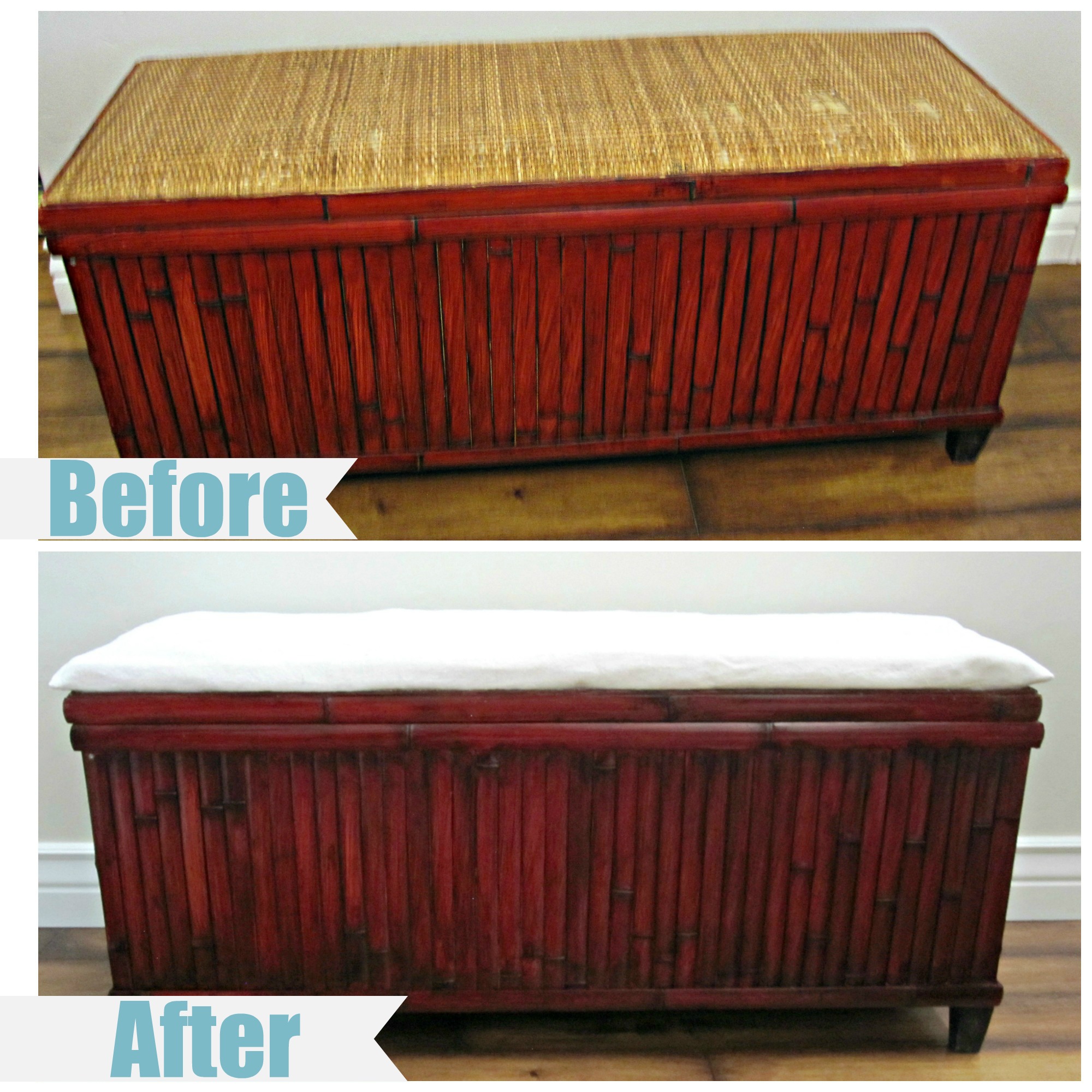 Between the stain and the fresher looking cushion on top, it looks SO much better!
What furniture have you redone lately?